February 17, 2011 -
Matt Bowen
If Cromartie hits the market, does he have value?
If New York Jets CB Antonio Cromartie hits the free agent market this offseason—as reported as a possibility by Michael Lombardi of the NFL Network on Wednesday night—where do you see his value? And is he a player that could fit in your secondary? There is still plenty of time for the Jets to make a move on this, but let's breakdown Cromartie.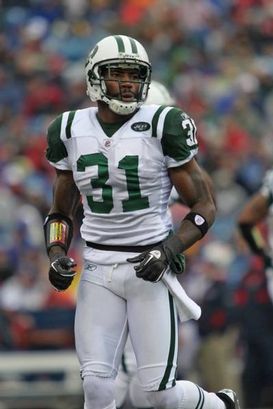 ICONThere is plenty of risk to Cromartie's game, but he is still a big play corner.
Without question there are concerns with Cromartie. He can get lazy with his technique and his hands (we will get to some video to highlight this). Cromartie will also get too tall in his backpedal and lose leverage on the WR in man coverage situations.
As a corner in the run game? We know he isn't going to set the edge like Charles Woodson in Green Bay. That's nothing new. He isn't a very physical corner when you run the ball at him.
Plus, he is a risk taker—an overaggressive corner. You know what you get with that in the NFL: a chance for big plays plus the blown assignments. These CBs will give up the deep ball and are an ideal target for double-moves, because they will sit on routes.
However, I still see the value with Cromartie. Corners that attack the football, have great recovery speed and the ability to close to the WRs hip are tough to find. He is still a No.2 corner on most depth charts and can play outside of the numbers.
Put him in a press or off-man alignment and let him play coverage. He isn't the type of corner that is going to be on the priority list for a Chicago or Indianapolis because of their scheme and what they want to do with their secondary in the run game. But if you play a pressure scheme that requires both Cover 1 and Cover 0 (no safety help), Cromartie should be on your list if he does end up as a free agent (with a hopeful new CBA in place).
Let's take a quick look at some TV tape here. Cromartie vs. Baltimore's Anquan Boldin from the 2010 season—because we will see both the negative and the positive of his game.
Here's what I see from the snap...
Check the replay. Cromartie is using what is called a "taxi" technique. Play press-man, but slide back at the snap and use a mirror technique instead of the jam. However, he is lazy with hands (keeps them low at his sides) and reaches while "opening the gate" (open up hips and give away leverage) on Boldin's initial move.
Bottom line: Cromarite is beat. But, he recovers to the hip of Boldin, finds the ball, snaps his head around and makes a play at the point of attack. That's playing football right there.
Even on the route breakdown from the Ravens (trying to run a fade-wheel route combo) Cromartie is able to get back "in-phase" with the WR, attack the ball and get up field on the return. That's not easy to do on a ball thrown to the outside as we see in this situation. Like we talked about above, Cromartie isn't sound in his technique and won't show up on many clinic tapes, but his athletic ability, size and ball skills save him in multiple situations.
Let's see how this plays out. Because if Cromartie does become a free agent, I am having him in town for a visit with my team.
Follow me on Twitter: MattBowen41