May 26, 2011 -
Matt Bowen
In a reduced role, is Portis an option in 2011?
RB Clinton Portis was one of the toughest football players I saw during my NFL career. I spent two seasons with him in Washington (one where he carried our team to the playoffs), and I will always have a lot of respect for what he brought to the stadium on Sundays.
Physical, ran hard, finished plays and had no issue staying in on pass protection. Despite what you saw with the media, the guy came to work when he put a game jersey on.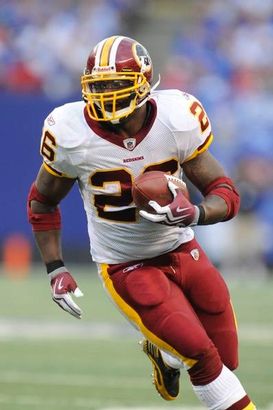 ICONPortis will have to play in a reduce role in 2011 to continue his career.
But that was years ago and doesn't contribute to his overall value in 2011.
And now, after injuries have started to add on to those tired legs, C.P. is just another veteran free agent that will be looking for work once the lockout is lifted.
However, if a RB like Larry Johnson can get a shot to extend his career, there is no reason that an NFL club won't take a peak at Portis sometime this summer when we see veteran player movement again in this league.
This week, Portis was very candid (not surprising) when he appeared on Late Hits on Sirius XM radio talking about his future in the league. The RB mentioned the Giants as a possible landing spot for the 2011 season, citing that he could play the 'Skins twice a season (I felt the same way towards the team after getting cut in 2006 from Washington).
Get that opportunity to prove to the front office, head coach and mainly Mr. Snyder that you can still produce in the NFL.
Sounds nice and it creates talk during this mundane lockout, but before we speculate on a potential club for Portis (I like the idea of seeing him in New England), let's think about the current value here.
C.P. isn't a No.1 back. Even if healthy, that time has come and gone for the veteran. However, what he can provide is security in the backfield. And that is why I quickly mentioned the Patriots. An offense that uses multiple backs and multiple personnel groupings to create matchups they can win.
A situational football player that will see 8-10 touches a game as a role player. Probably not what Portis would like to hear, but again, we are talking about an aging running back that doesn't contribute on a weekly basis to special teams.
The market won't be big for his services, and the paychecks won't come close to what he was seeing every Tuesday over at Redskins Park. But if Portis is willing to play for cheap, someone will come calling when training camp eventually kicks off.
It just won't be in that spotlight role that C.P. was used to having in Washington.
Follow me on Twitter: MattBowen41