January 30, 2011 -
Matt Bowen
In Green Bay, the leadership starts with Woodson
Before we get into Charles Woodson, I wanted to share a piece I wrote for the Des Moines Register on Kirk Ferentz and the Iowa football program after the negative national opinion that has surfaced this week.
Click here to read my personal take—from the perspective of a former Hawkeye.
--------
When Michigan won the national championship in 1997, I was a sophomore at Iowa. On an October Saturday, we went into halftime—in Ann Arbor—with a 21-7 lead. The Big House was silent. 100,000 people sitting on their hands.
The second half was a different ballgame—because of Woodson. He shut down our offense and Michigan went on to the Big Ten title, Pasadena and the eventual final No. 1 ranking.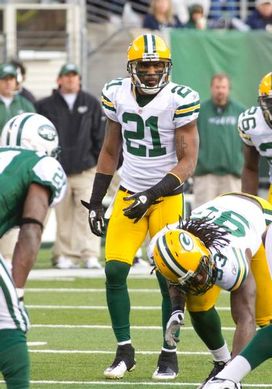 ICONGreen Bay's Charles Woodson.
It was at the point where I first saw how talented and competitive Woodson was. He put an entire football team on his back after the worst half of football they had played all season. Erased our offensive playmakers from the playbook and basically took over the tempo of the game.
From my perspective, nothing has really changed since then. Yes, there is talent with Woodson. We can all see that. His footwork, technique, ability to use his hands at the point of attack, etc. He is one player that young defensive backs should study on tape in the offseason. I watched him in the film room when I played—because he stood out. You steal everything you can in terms of technique from the NFL's top players during your offseason study to improve your own game
However, let's go deeper. In a season when Green Bay was devastated by injuries—the ultimate adversity you face as a pro football team—they are still standing a week away from Super Bowl XLV. Coach McCarthy, Aaron Rodgers, Donald Driver. Names that should be mentioned when we discuss leadership up in Green Bay. But from what I have seen—and heard from people close to the Packers—this is Charles Woodson's football team.
This morning I pulled out my notes from my trip up to Packers' training camp in August. Bad handwriting and all, one thing was constant: Woodson. Sure, I wrote down notes about his technique: backpedal, plant and drive, ball skills, etc. Part of playing defensive back in this league and something you will see at all thirty-two NFL camps in the summer heat. Cornerbacks with good feet jump out starting with individual drills. Nothing new. Write it down and move on.
But I still go back to the way the secondary, the defense and the entire team reacted to him on the field. He was vocal, competed—in every drill—and it was obvious that players (rookies and veterans) gravitated to him. That stood out more than what he did during one-on-ones and during blitz period. On top of that, it was very refreshing to watch a veteran—coming off of the Defensive Player of the Year award—to compete so hard during an afternoon practice in early August. And I can tell you from my experience in the league, you won't see that everywhere with the top talent. There are big names that will coast, get through drills and manage the flow of training camp. I saw the exact opposite with Woodson.
I will admit that I am very partial towards the secondary. I study it more when I break down X's and O's. And even on a causal Saturday afternoon watching college ball my eyes are always on the play of the safeties and the cornerbacks.
Studying the Packers, I am the same way. Clay Matthews and the front seven can play football. There is no doubt about that. But I always watch Woodson. There is something unique about his game. It starts with leadership and the daily drive to compete.
True leaders are hard to find—and Green Bay has a great one in Woodson.
Follow me on Twitter: MattBowen41
Want to work in the NFL? Click here to sign up for the NFP's "Chalk Talk" session at the Combine in Indianapolis on February 25th.