August 02, 2011 -
Matt Bowen
In the NFL, CB play is worth the cash
You want an example of the value placed on corner back play in the NFL? All you have to do is look at the money that was handed out over the last week of free agency.
From Nnadmi Asomugha's impact to Johnathan Joseph, Antonio Cromartie, etc., NFL clubs see the importance of investing in coverage corners () that allow you the flexibility and security as a defensive play caller. Want to break it down? This is what you are up against every Sunday vs. NFL offenses...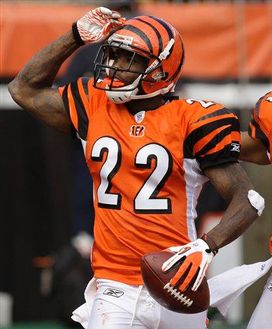 New Texans CB Johnathan Joseph is a prime example of the value the NFL is putting on secondary play.
- Look at the offensive game plans in New England, Green Bay, New Orleans, etc. When you start to break them down on tape throughout the week of practice, what do you see? Multiple personnel groupings, alignments, pre-snap motion, etc. They work to gain a specific matchup they can exploit.
- Players aligned out of position. In Green Bay, the Packers will align Greg Jennings as the No.3 WR—close to the core of the formation—to get the matchup of a nickel corner, a FS in man coverage or the Mike Backer in the Cover 2 defense. Athletic TEs that can run (Gates, Finley, Winslow, etc.) aligned as the X receiver (split end) to use size vs. a CB or SS.
- Empty formations. Spread the field and expose the secondary in common route schemes. You don't get base Pro alignments or a slot formation out of Regular personnel very often. The game has changed to the point where we will see the QB in the gun with five players in the route scheme—on 1st down. Stretch the top of the defense and work to get the ball down the field outside of the numbers.
And it isn't slowing down. Defenses will roll their sub packages (nickel, dime) onto the field in early down and distance situations to counter the personnel of the offense. In most schemes, the nickel corner isn't looked at as a "third down situational player" anymore. Match personnel and win the Xs and Os chess match that takes place on every single play.
Having the talent to matchup (and cover the entire NFL route tree) is the rule in today's game from a defensive perspective. You want to pressure, play man and blitz man coverage? Then you better have the players to pull it off—and the elite ones are tough to get.
Asomugha landed a $60-million dollar deal in Philly. Joseph got $48 million to leave Cincy and just yesterday, Cromartie signed a 4-year deal that will pay him $32-million—to line up as a No.2 CB.
Big money—but smart money. Good defensive football is about dictating the flow of the game and stepping on the throats of the offense. And during free agency we saw that money was invested to make that happen at the CB position.
Follow me on Twitter: MattBowen41