October 07, 2010 -
Matt Bowen
Inside Martz's game plan
Game plans in the NFL are scripted based off of your opponent's four previous games. Go back through a month of tape and start scouting: tendencies, personnel, formations, alignments, etc. They are in-depth, detailed and provide you—the player—with a guide to go to work with on Sundays.
It is no different preparing for Mike Martz--my head coach as a rookie in St. Louis.
I was a note taker during my seven seasons in the NFL. Coach writes something on the board, it was going in my notebooks—and I kept them all. Let's open up my notebook from the '05 season (when I was playing for the Redskins) as we get in-depth ourselves and scout Martz as a play caller. Because, even years later, coaches don't change. Those tendencies and schemes travel—and I have already seen them again this season in Chicago.
Washington at St. Louis: 2005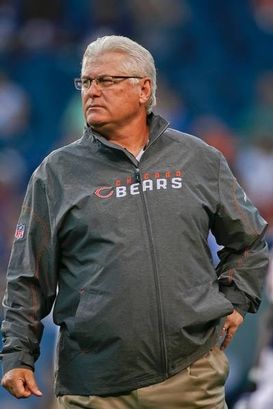 ICONMartz's schemes haven't changed much since he was calling plays in St. Louis.
Martz's personnel
Pro (2 WR, 1 TE, 2 RB)
Ace (2 WR, 2 TE, 1 RB)
Posse (3 WR, 1 TE, 1 RB)
Jet (4 WR, 1 RB)
Tank (1 WR, 2 TE, 2 RB)
Jumbo (3 TE, 2 RB)
The screen game
We always started with the screen game under Gregg Williams in Washington.The first install of the week.
*24 screens in 4 games: 1st and 10 (10)/ 2nd and 10 (7)/ 3rd and 10 (7)
Pre-snap alerts…
1.#28 (Marshall Faulk) in the backfield= Swing Screen (Chester Taylor in Chicago)
2.#28 aligned at X= Missile Screen
3.14/ 24 screens to the defense's left
4. Run Swing Screen away from play action
The Run game
We would always chart their top runs. Martz and the Rams had six that we scouted along with pre-snap tips.
1. Draw: No.2 will align will align with an wide split
2. Stretch: RB will align at depth of 8-yards
3. Counter Weak: FB aligned tight to the line of scrimmage
4. Zone: Will check at the line/ run to the shade (Nose) side in a 4-3 front
5. Lead Weak: O-Line will open up splits/ 4 of 6 to defense's right
6. Toss Weak: Quick snap/ 5 of 6 to our right
Alignments (regardless of personnel on the field)
Defenses will study alignments; because offensive coaches will change personnel to window dress certain schemes. Let's check them out.
Pro Sets
Cross 40-yard line= deep ball
2 RB set= Middle Read (9-Dig-9 combo)
1 RB set= Deep Post
Aligned into boundary (sideline)= Sucker Route (Curl-Post combo)
Near/ Split Back= Pass alert
Slot Sets
4 out of 5 were runs
WRs over split= rabbit (run)
WRs reduced split= Pass alert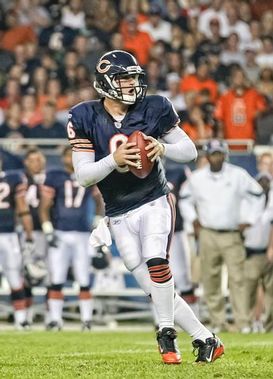 ICONA 2x2 alignment with Cutler in the gun? Expect a pass from the Bears.
2 x 2 sets
Any motion to create a 2x2 set= Pass
2x2 spread= Draw
Shotgun= Pass alert
WRs aligned inside of the numbers= Draw
3x1 sets
Y (TE) off the ball=Counter alert
Posse= 2 to 1 run
RB at depth of 6-yards= Pass
Trips into the boundary= Screen alert
Motion to 2x2= Slant-Flat
1st/ 2nd Down Passes
Always scout their top concepts in 1st and second down situations in t he passing game.
1. Middle Read
2. 2-Man (max protect deep ball)
3. 4 Verticals
4. Smash-7
5. Hi-Lo/ Hi-Lo Crossers
6. Scissors (7-8 Combo)
7. Sucker
8. Flat-7
Critical Plays
Think of 3rd and short situations, fourth down, backed up on the goal line, etc. Plays they need to move the ball to either keep the clock going or pick up a first down.
*13 plays in 4 games: 10 passes vs. 3 runs (not much different than 2010)
All three runs (Stretch, Toss, Stretch G) came out of Tank personnel
Passes: Tank (3), Posse (3), Jet (4)
Routes: Smash-7, Boot, Swing Screen, Flat-Slant, Fade, Skinny Post
3rd Down tips
Start with protection schemes (the same 7-step drops under Martz) and move on to the top concepts by down and distance. We were a heavy pressure team under Williams and we studied the various protections we would see throughout the week of practice—and scouted what type of protection schemes they used. No different than the Giants on Sunday night--which led to 10 sacks.
3rd and 2-6: 6-man protection (x12)/ 7-man protection (x3)
3rd and 7-10: 6-man protection (x7)/ 7-man protection (x2)
3rd and 11-plus: 6-man protection (x4)/ 7-man protection (x9)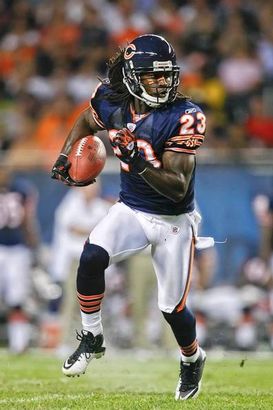 ICONDevin Hester and Johnny Knox become the top targets on 3rd downs.
Top concepts
In our 3rd down prep, we broke down concepts by down and distance. And, these are the same route concepts we see from Chicago today.
3rd and 2-6
1. Options
2. W-Post (Devin Hester in Chicago)
3. Hi-Lo Crosser
4. 2-Man
5. Tare (Option-Flat combo)
6. X-Iso (Johnny Knox in Chicago)
3rd and 7-10
1. Flat-7
2. Sticks
3. Middle Read
4. Options
5. Sucker
6. Split Hook (Bunch)
3rd and 11-plus
1. X Dig (Martz's go-to route)
2. 999 (3x1)
3. Dino (Double Post)
4. OVS (Outside Vertical Stretch)
5. Zone Pass
2-Minute
Scout what to look for in the 2-minte offense. Top runs and top passing concepts.
*Alert Screen/ Draw to start 2-minuyte drill
Top Runs: Draw
Top Pass Concepts
1. Smash-7
2. 4 Verticals
3. Sucker
4. Flat-7
5. Slant-Flat
6. OVS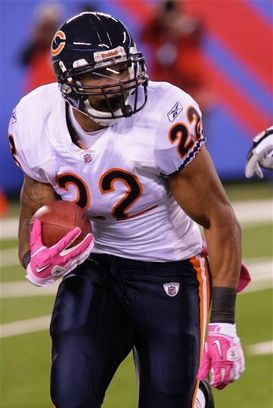 ICONThe screen game is big for Forte and the Bears once they reach the 25-yard line.
Red Zone
We broke the red zone down into two categories: High Red Zone (25-16 yard line) and Low Red Zone (15-yard line to goal line)
High Red Zone Route Concepts
1. Screen
2. Middle Read
3. Scissors
4. OVS
5. Smash-7
Low Red Zone Route Concepts
1. Sticks
2. Hi-Lo Crossers
3. Flat-7
4. Hi-Lo (whip)
5. X Iso
6. Swing Screen
7. Sprint (Flat-7 combo)
The "Gotta Have It" concept
When Martz needs a play to keep a drive alive or get the ball in the end zone. We went into every Sunday knowing what play the offense was going to run in the most crucial situation in the game.

Martz's "Gotta Have It" play? Hi-Lo Crossers…
That's it. Word for word from the Redskins' defensive team meeting room to the National Football Post. When you watch the Bears this weekend in Carolina (and throughout the season), pay attention to the alignments, the schemes, the route concepts and the running game. Although they do adapt and evolve, they never really change.
Want more? I have plenty of notebooks. Let me know...
Follow me on Twitter: MattBowen41
Want to work in the NFL? Click here to register for the NFP's "Chalk Talk" session on October 22nd in Chicago.