October 14, 2010 -
Matt Bowen
Inside Reid's game plan
Last week, we checked out Mike Martz's game plan—going back inside the pages of my notebooks from my playing days in the NFL. Schemes, tendencies, route concepts, etc. A complete breakdown of what Martz was doing as a play caller.
Today, let's take a look at Eagles' head coach Andy Reid. The west coast system in Philly hasn't changed much since I was playing them twice a season with the Redskins. An offense that focuses on inside breaking routes. And, like we talked about last week, coaches don't change their identity.
Here are my game prep notes and a breakdown of the Eagles' offense…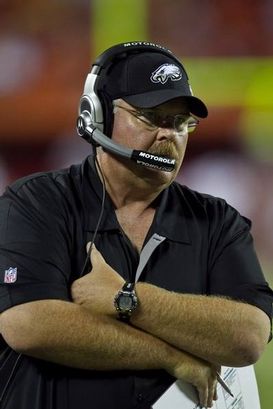 ICONReid's west coast system hasn't changed much over the years.
2005: Philadelphia at Washington
Breakdowns and tendencies are complied from the opponent's four previous games…
Reid's personnel groupings:
Pro: 2 WR, 1 TE, 2 RB
Ace: 2 WR, 2 TE, 1 RB
Posse: 3 WR, 1 TE, 1 RB
Tank: 1 WR, 2 TE, 2 RB
Jumbo: 3 TE, 2 RB
Key personnel in breakdown:
No. 81: WR Terrell Owens (Owens was the focus of the passing game)
No. 36: RB Brian Westbrook
Receiver terminology
X= Split End
Z=Flanker
Y= on the line TE
U= 2nd TE in the game
W=Slot receiver
R= RB
F= FB
*Game plan tip: No.81 aligned out of position--he is getting the ball.
Screens: 14 total screens: Posse (8x)/ Ace (3x)
1st and 10=5x
2nd and 10=5x
Alerts:
Most screens run in plus territory
9 screens to our left/ 6 to our right
Throwback screen: Alert QB sprint action to our left
Bunch into the boundary (sidelines) alert screen to No.36
No.36 motion to empty= missile (bubble) screen
Gadgets
Alert to No. 81 aligned out of position (T.O. was the "X'" receiver)
Double reverse out of Pro personnel to No.81
Flea-flicker out of Ace personnel: No.81 aligned inside of the numbers
All reverses are run to our right
Eagles 1st and 2nd down
*75% percent pass to run ratio
Top run concepts:
Broken down into two-back and one-back runs. The same runs we see with LeSean McCoy today in Philly.
Two-back runs 1. Lead Weak
2. Stretch Strong
One-back runs
1. Stretch Strong
2. Stretch Weak
3. Draw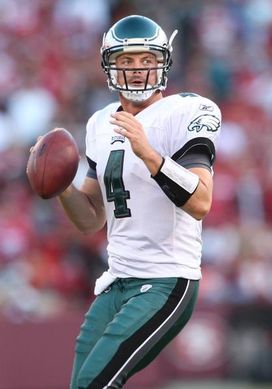 ICON1st and 2nd down? Expect the Hi-Lo passing concepts from Kolb and Philly.
Top pass concepts
*Vs. the west coast system, the majority of the routes want to be completed between the hash marks and the numbers
1. Hi-Lo (square in- shallow crosser)
2. Hi-Lo opposite (shallow crossers from opposite sides)
3. Hi-Lo Triple In (square in-shallow crosser-angle)
4. Middle Read (9-dig-9 combo)
5. All slants
6. Tare (option-flat combo)
7. Yankee (Deep crosser by "Z"/ Deep 7 by "X")
8. Outs
9. Hitches
10. Flood
11. Options
Formation Alerts:
Broken down by formation/ alignments over personnel
Doubles/ Walk (2 x 2 with TE removed from core of formation)
TE to our right=Run alert
TE to our left=Pass alert
Any motion to create Doubles/ Walk= Pass alert
No.2 over split (wide split)= Run alert
No.36 aligned in slot= Option route
No.81 aligned as "Z" receiver with reduced split (tight split)="Yankee" alert (deep crossing route—same route we see today from DeSean Jackson)
Doubles/ Near-Far back (2x2 with RB aligned offset near or far)
RB offset to No.81=Hi-Lo route concept (square in-shallow crosser combo)
RB "chowed" (aligned on outside leg of OT) to our right=Sprint Pass alert
QB under center=9 to 1 Pass
Orange (2x2 spread look)
No.1 WRs aligned on bottom of numbers=Out Routes
No.1 WRs aligned on top of numbers= Verticals
Pro Sets
RB aligned at depth of 6-yards or less=3-step passing game
Z with "nasty" split (very tight split)= Flood/ X-Slant to No.81 (route Eagles ran all night in the Super Bowl loss to the Patriots with T.O. on backside of formation)
RB "chowed" to TE= No. 36 on Angle route
I formation=Deep ball
No.81 aligned at Z with pre-snap motion= "Spot Route" (7-crul-flat combo)
Unit/ Unit Slot (2 TEs in the game aligned in core of formation)
9 passes/ 7 runs
Two TEs in wing alignment=Pass alert
Unit Slot (wing with WR slot to the field)= deep ball: Dino (Double Post)/ OVS (Outside Vertical Stretch…9-7-flat combo)
Any WR motion=Pass alert
Both WRs aligned in "nasty" splits=OVS
Formation into the boundary= Dino alert
Trips
RB offset=Pass alert
Motion=Pass alert
No. 81 aligned as No.3 strong=Tare (option-flat combo)
No.81 aligned at X= 9 or slant
Eagles Third Down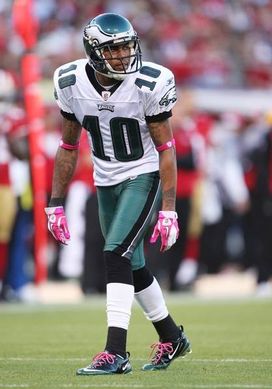 ICONJackson is a top target in the 3rd down concepts for the Eagles.
Pass Protections
Always know what protection schemes you are going to face in your blitz packages
3rd and 2-6: 6-man protection (10x)
3rd and 7-10" 7-man protections(11x)/ 6-man protections(9x)
3rd and 11-plus: 7-man protection (7x)/ 6-man protection (7 x)
Empty tips (no backs in backfield)
QB under center= 3-step passing tree
QB in gun= Hi-Lo concepts
Alerts:
Doubles Y Off= Double moves
Alert Missile Screen
Top Runs:
1. RB Draw
2. QB Draw
3. Stretch Strong/ Weak
Top Pass Concepts:
Break down the route tree by down and distance
3rd and 2-6
1. Hi-Lo Triple In
2. W Post
3. Outs
4. R Option
5. Flat-Slants
6. Tare (empty)
7. All Slants
3rd and 7-10
1. Middle Read (big play for Jeremy Maclin today)
2. NCAA (Z- Dig/ Y- shallow crosser/ X-Post)
3. Sprint (Smash-7 combo)
3rd and 11+
1. Sticks (All Curls)
2. Dagger (Seam-Dig combo)
3. Double Dig
4. 999 (4 Verticals)
5. Sucker (Curl-Dig combo)
6. Pin (Dig-Post combo)
Eagles 2-minute offense
*Alert screen/draw to start series
Alerts:
97% Posse/ Pony (2 RBs in the backfield)
3 screens
6-man protection (13x)
7-man protection (6x)
Top 2-minute concepts:
1. Middle Read
2. Tare
3. Curl-Flat
4. 4 Verticals
5. Whip Options
6. Zone Pass (short curls)
7. Sprint: 7-Flat combo
ICONEagles' RB LeSean McCoy.
Eagles Red Zone
Concepts are broken down into High Red Zone (25-16 yard line) and Red Zone (15 to goal line)
Alerts:
Will run the ball to set up passing concepts
Alert screen and check down to No.36
WR motions inside of the numbers= point of attack
WR motions outside of the numbers=waste motion
Empty with No.81 aligned inside of numbers=middle of the field ISO route
High Red Zone Concepts:
1. PIN
2. Middle Read
3. X ISO
4. Scissors (8-7 combo)
5. MOF ISO
6. Outs
Red Zone Concepts:
1. Spot
2. Flood
3. Hi-Lo
4. Hi-lo Triple in Flood (square in-shallow crosser-angle-R swing)
5. Sprint Option
Critical Plays
Backed up. 3rd and short. Four-minute situation. 4th down play. What do the Eagles run when they are protecting a lead or need to move the sticks?
*8 total plays we scouted: 6 passes/ 2 runs
2 runs
1. RB Flip
2. 20 Trap
6 passes (all to our left)
1. Spot (2x)
2. Wheel route (No.36)
3. Tare
4. Outs
5. Sprint option
*2-point play: No.81 aligns in backfield/ run sprint option
*Our lead call in a critical play situation? Cover 2 out of a 4-3 Over front
Eagles goal line
Top personnel: Jumbo/ Tank
Top runs: ( 4 of 6 runs to our right)
1. Stretch
2. Lead Weak
3. Lead Strong
4. Power Bob O (back on backer)
Top Passes:
1. Boot
2. Sprint Option
3. Pop Pass (Y quick release)
4. 7-Falt
"Gotta Have it" play
Every offense has a play/ concept they will run with the game on the line. Vs. Philly we broke down two of them.
Eagles "Gotta Have it" Plays
1. Hi-Lo crossers
2. Dagger
That's a wrap. Word for word from my notes during our game prep for Andy Reid's Eagles. Looking at the concepts, we will see the same routes, runs and red zone passing tree this Sunday when the Eagles host the Falcons that we did back in 2005. The west coast offense has added some new concepts over time, but when you break it down by down and distance, formations and situational football—it really hasn't changed.
Want more? I am thinking of Mike Shanahan or Jon Gruden next…
Follow me on Twitter: MattBowen41
Want to work in the NFL? Click here to register for the NFP's "Chalk Talk" seminar in Chicago on October 22nd.