April 04, 2011 -
Matt Bowen
Inside the film room: the CB position
Click here to read my film breakdown of the safety position.
Click here to listen to the CB breakdown in the Draft Countdown podcast.
Last week, I started to talk about film study as it applies to watching tape on NFL prospects at the safety position. From footwork to X's and O's, there is always something to be learned when you sit down to take notes on a player. Today, let's move onto the cornerback position. With top prospects such as Patrick Peterson, Prince Amukamara and Brandon Harris there is plenty of tape to watch and discuss.
Today: the CB position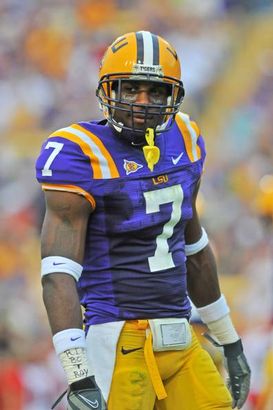 ICONPeterson's combine speed (4.34) translates to his play on tape.
Speed: No question that this is a stopwatch position, but you still have to see how it applies to the tape. Take those numbers from the combine, plus the pro day, and compare them when you turn on the film. Have a 4.4 guy that looks like a 4.6 player on tape when he is asked to turn and run? That's an issue. What you are looking for is recovery speed (player beat down the field) and the ability to run with the 9 (fade) 8 (post) and deep 7 cut (flag). Bottom line with speed: workout numbers have to equate to film study—exactly what you get with LSU's Peterson at the position. A player with above average size (6-0, 219) that can run on the track and the football field.
Plant and drive: You will hear the NFP's Wes Bunting talk about "click and close" with CB prospects. What he is looking at is the player's ability to plant that foot and drive on the football. You want to see clean technique, good body lean (low pad level) and explosion with the first step. Think of a CB playing off-man coverage vs. the 3-step game (slant, hitch, smash, etc.). Can he pedal, drop the back foot and drive to the cut-off point to make a play? Often, this will expose a prospect's lack of technique—and it all comes back to footwork.
Press-man technique: You don't see many college defenses aligning their CBs in a press-look the majority of the time (more zone based schemes vs. spread offenses). However, when you get a chance to see press-man, study the technique. Do they punch with the proper hand (inside hand on outside release, outside hand on inside release)? What about their feet? Do they open the gate on the snap (poor technique of opening hips and allowing a free release) or can they play with a mirror technique and stay "in-phase" with the WR? Press-man is more about technique than strength and length at the line of scrimmage.
Click here to see a press-coverage breakdown from Super Bowl XLV.
Off-man technique: Start with the backpedal then move to leverage and cushion vs. the WR. Biggest area of concern with CBs playing off-man coverage is their inability to stay patient and let the route develop. Watch to see if they can keep outside leverage in Cover 1 schemes or if they consistently give up outside breaking routes (out, comeback, 7). I do believe that playing off-man technique is the toughest thing for an DB vs. NFL competition, and despite what we think about pressure teams in the NFL, everyone plays it. Funnel the WR to your help in the middle of the field and drive to the hip on the throw. Not easy to do—and you will see examples of this every time you watch a prospect.
Zone concepts: Can the player roll down and play a cloud coverage in a Tampa 2 scheme? Or, what about Cover 4 (quarters) from an off-alignment, Cover 3 and also the front side of Cover 6 (quarter, quarter, half). Every NFL defense—regardless of how much they pressure—will have zone concepts in the playbook. That is the reason we see Cover 2 down in New Orleans with Gregg Williams and in Pittsburgh with Dick LeBeau. No such thing as a "man-corner" anymore in today's defenses. They have to play both—so watch to see if these prospects can produce when the defenses is playing a zone scheme.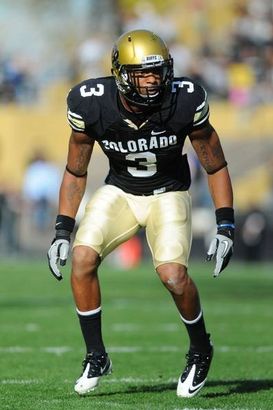 ICONJimmy Smith has first-round talent but his lack of INTs raises some questions.
Ball skills: Similar to what we talked about at the safety position, because defensive backs need to make plays on the ball. Last week I wrote about Colorado's Jimmy Smith. Only three interceptions during his time on campus. Is that a concern? I think so, because CBs need to develop into playmakers at this level. Watch how they track the ball, what they do at the point of attack and if they go up and play the pass at the highest point. If they are beat, can they "play the pocket" (rake between the arms of the WR) and still come up with a PBU (pass broken up)? Coverage skills are one thing, but you have to see the reward with the CB finishing the play. However, if you are watching a player that likes to sit on routes, see if the double-move comes into play. This can be a concern.
Tackling, shedding blocks: Have to tackle. It is a must, and it starts with defeating a WR on the stalk block. Does the CB use his hands to disengage the blocker, keep contain on the ball carrier and then put him on the ground? Also, you want to see CBs that can "set the edge" of the defense (think Cover 2 or backside of a slot). Often times that equals to taking on a FB kick out block or pulling guard. As one coach of mine used to say "time to put the big boy pads on." Playing CB isn't based solely on man-coverage and if you see a player that will shy away from contact or consistently cuts the legs of blockers as a primary support player, start asking questions. It is a physical position.
Playing the slant and fade: I am throwing this in, because it always stands out to me on tape inside of the 10-yard line. The top two concepts in the NFL to beat man-coverage in the deep red zone are the 1-step slant and fade. During my NFL career, we dedicated a portion of Friday's practice (red zone day) and you will see it every Sunday. The ultimate one-on-one situation. Will they break on the slant and also turn their hips to cut off the corner of the end zone on the fade? Has to be done.
Click here to see a breakdown of Georgia's A.J. Green on the fade route vs. Colorado.
Next up: The RB position
Follow me on Twitter: MattBowen41