April 17, 2011 -
Matt Bowen
Inside the film room: the RB position
Let's continue our film breakdown series and move on to the running back position. My notes on what to look for when you are grading NFL prospects on tape.
Click here to read the safety breakdown.
Click here to read the cornerback breakdown.
Today: the RB position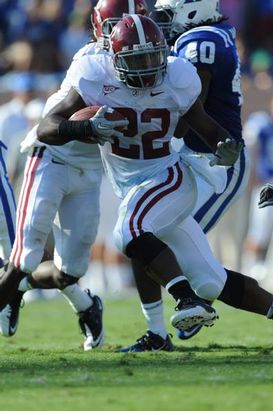 ICONIngram plays faster on tape than his track speed in shorts.
Game speed: There was some talk after Mark Ingram ran in the 4.6 range at the combine, but when you watch him play on tape, his "game speed" stands out. You don't need a back that runs in the 4.4's to be productive on Sundays. Instead, you want to see a prospect that hits the hole with an explosive first step, keeps his pad level low and works to the second level of the defense. The stopwatch can't show that in a pair of shorts when you consistently see a RB press the edge of the defense on tape.
Vision: A "buzz word" that is often thrown around in various reports I have seen through the media, but what does it really mean? Think of schemes first: the outside zone, Power O, Lead Open, etc. Basic running plays that we see from the high school level to the NFL—and "vision" applies to all of them. Does the RB know when to bounce the play to the outside? Can he cutback vs. a defense that over peruses to the football? Is he a one-cut runner or does he hesitate and give back yardage? And, can the prospect allow his blocks to develop and get through the hole before he makes a cut up the field? I want RBs that have patience to let the play develop and enough awareness to make a cut that produces positive results.
Receiving ability: NFL offenses aren't based on power running sets (Tank, Heavy) every snap. Think of the offensive schemes we see in New Orleans, New England, Green Bay, Chicago, etc. Catching the ball on a check down route vs. Cover 2 is nice, but I want RBs that can align removed from the core of the formation. Run the 3-step game (slant, hitch, smash) and also be used as a weapon out of bunch looks and in empty sets. It is going to be hard to find that ideal blend of power and route running ability, but don't base your grade on catching the football on the check down and the screen game. That is part of the job—and it should be expected. RBs need to do more in today's NFL.
Pass protection: Every rookie is going to struggle in pass protection when they first get to camp. That's a given. And they will need to be coached, because college football does not have the same pressure schemes that we see with Gregg Williams, Rex Ryan, etc. Part of that is due to the soft zone coverages we see vs. the spread offenses in college. However, you still have to grade the prospect. Can he "scan" in protection and pick up and edge rusher? Is he a "cut-block guy" or does he get low in his base and take on rushers. Does he understand six, seven and even eight man protection schemes? It took me a while during my NFL career to understand offensive protection schemes and how to attack them. And it will be no different with rookie RBs. Bottom line: you can't put him on the field in passing situations if he is going to get your QB hit—because those guys make some big money.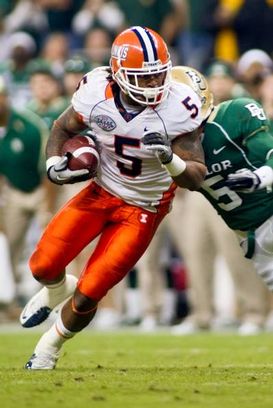 ICONAfter watching tape of Leshoure, I see a RB that will finish runs at the NFL level.
Power-toughness: This is all about finishing runs. To say a back "runs with power" looks good on a scouting report, but I want my players to run through arm tackles, lower their pad level on contact and clean up defensive backs that drop their heads in the hole. This is more than just moving piles on a 3-yard gain. RBs that have power in their game will show balance and drive their legs on contact. On top of that, look for RBs that can carry the ball 30-plus times a game and still run with explosive force in the fourth quarter. Play hurt, play banged up and continue to take hits over the course of the season. These collisions in the NFL are like car accidents inside of your helmet. If you don't see a RB that can consistently run hard over the course of a college season, it isn't going to happen on Sundays. They won't last.
Open field ability: Make someone miss. Defenses walk the SS down into the box to create an eight-man front to add an extra defender to the mix. Even on the perfectly executed off-tackle play, your RB has to make someone miss to generate an explosive gain (plus 25 yards). NFL backs can't go down on first contact and they must have use their lateral quickness to avoid tackles. RBs that consistently get tackled in the open field won't stick in the NFL.
Scheme fit: The Dolphins have different schemes in their playbook than the Eagles. Think of the top three backs in this year's class: Ingram, Mikel Leshoure of Illinois and Ryan Williams of Virginia Tech. I do believe that NFL backs have to show the ability to run out of the two-back power looks, the one back zone schemes and out of the gun (inside trap, draw), but does one player fit better than the other based on scheme alone? The Patriots want RBs they can use in certain matchups to exploit defenses, while the Jets want backs that get downhill in the Power O and Counter OF schemes. A case of Danny Woodhead vs. Shonn Greene. We can apply this idea to every RB we watch on tape when judging how they will transition to certain NFL offenses.
Next up: The QB position
Follow me on Twitter: MattBowen41