March 31, 2011 -
Matt Bowen
Inside the film room: the safety position
With less than a month to go until the NFL Draft's opening night, NFL coaches and scouts will go back to the film room to wrap up their final grades for potential prospects. But what are they looking at?
Understanding how to watch coaches tape (which can be easily applied to TV tape) and evaluate talent takes time--plus patience. And after playing in the NFL for seven years, and talking with current coaches, this is what I look for in poetential prospects when I turn on the film--starting with the safety position.
Today: the safety position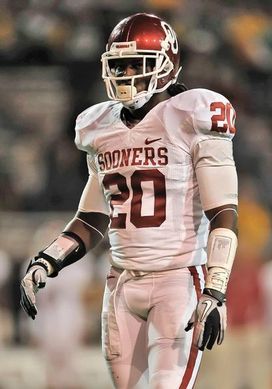 ICONFormer Oklahoma safety Quinton Carter.
Angles to the ball over speed: Have a safety that runs a 4.5 or a low 4.6? Might raise some questions in Indy at the combine, but when you turn on the tape it is more about angles to the ball. Can a FS come out of his pedal and break on an inside breaking route? Or does he round his angles and arrive late, out of position—and usually out of control? Versus the deep ball, does he undercut the receiver or does he take an angle to the up field shoulder on the 9 (fade) route and deep 8 (post)? Bottom line: a 4.4 40 time doesn't carry over to game tape if the prospect doesn't understand angles to the ball—and sometimes a 4.55-4.60 does.
Range: You want a safety that can get from the middle of the field over the top of vertical route schemes outside of the numbers. This will hurt some prospects who struggle on tape and that gives them the label of an "in the box safety." Translation: he doesn't have enough range to play FS on Sundays. Again, don't base this solely on the stopwatch, because a good safety will break before the ball is even thrown. Instincts and knowledge of the game also are factors.
Understanding concepts: Does a safety know what to expect when aligned in Cover 2, Cover 4, and so on? Does he anticipate route schemes such as the flat-7,4 verticals, flat-slant, etc because of the pre-snap look from the offense. WR splits and formation recognition is important to safeties, and if you see a prospect that is consistently out of position there is an issue. The concepts and schemes only get tougher to understand on Sundays.
Tackling: Often lost in the discussion because it isn't glamorous. And be careful here, as you want sound tacklers over "big hitters." Does the prospect wrap up on the ball carrier, can he use the sideline as help and does he know how to "run the alley" (inside out on the ball carrier, finish with head across on the tackle) vs. and edge run? When he is part of the run front, you want to see him get off of a block and make a tackle. Also, you want to see if he brings his hips or if he an "arm tackler" that rides the ball carrier to the ground. Because safeties that can't tackle in the open field are a liability.
Coverage skills, footwork: Safeties in today's NFL have to play man coverage. What you want is a player that can drop down over the slot—or a TE removed from the core of the formation—and play both press and off-man. Watch their footwork, their backpedal, plus their plant and drive. Is it smooth? Do they get too high? Can they open their hips or are they too stiff (exactly what I was) when they turn and run? Some players can get away with sloppy technique at the college level because they are superior athletes compared with the competition. Not in the NFL. If a safety has poor technique, he will need extra work in camp.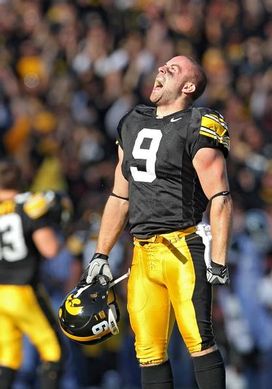 ICONTyler Sash had 13 career interceptions in Iowa City for the Hawkeyes.
Playmaking ability: Is the prospect around the ball? And when he gets there, does he finish the play? I don't know how many times I've seen a safety on tape that just can't finish the play. Break on the deep dig, take the proper angle and come up with nothing—and that keeps the defense on the field. Or, you get the opposite, a player will panic with the ball in the air and start grabbing the receiver. A safety that doesn't have a high number of PBU's (passes broken up) or interceptions in his career worries me—because that isn't going to change vs. NFL competition.
Play recognition: Talked to an NFC defensive back coach about play action recently on tape. His question: "Why is this kid always getting beat on play fakes? Is it his eyes? What are his keys?" Something to think about, because giving up a big play in the NFL loses games. Look at the safeties reads. If he is over the TE then why is he constantly looking in the backfield? The only reason players get beat on play action is because of their eye placement—and that equals poor discipline.
Toughness: One NFL coach I talked to has this at the top of his scouting reports when he turns on the tape. He wants to see a safety that will take on a pulling guard in a Power O scheme, invite contact in the run game and finish on tackles—driving the player to the ground. And you want to see this carry over from game one until November. Safeties get beat up, but the ones that stand out on tape play with that same physical style every week. Sounds too simple to question toughness at the safety position, but I have watched players on tape (in BCS conferences) shy away from contact. That is not what you want to see.
Blitz technique: I am throwing this in, because of the style of today's NFL defenses—and there is a lot of technique involved. You don't want a safety that blitzes through the hole, runs tall and can't avoid contact. Watch their hand placement, their ability to set up an offensive tackle and their power on contact. You have to win a one-on-one matchup vs. protection schemes to get to the QB.
Next up: the CB position
Follow me on Twitter: MattBowen41