April 14, 2011 -
Matt Bowen
Is Alex Smith the answer for Harbaugh, 49ers?
From the reports that are out, new 49ers head coach Jim Harbaugh wants to work with veteran QB Alex Smith during the 2011 NFL season. According to Matt Barrow of the Sacramento Bee, San Fran did offer the former No.1 pick a one-year deal before the NFL lockout began, and now we have to wonder if this is a possible fit for both Harbaugh and the club.
Free agency now awaits Smith on the open market and he could get an offer to jump-start his career in a new uniform. But I also understand the attraction from the Niners towards the QB. A veteran with starting experience and the idea of what he can do in a west coast system.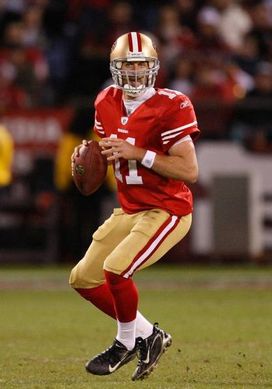 ICONCan Smith be the No.1 QB for Jim Harbaugh and the 49ers this season?
To give a quick breakdown of the west coast system, think of the quick 3-step game (slant, hitch, spacing, smash, etc) to start and move onto the intermediate route tree. Compete with inside breaking routes that are run between the hash marks and the numbers. 2-back play action schemes and third down concepts (Hi-Lo combinations) that create open throwing lanes.
Sound like a plan? Maybe, but I also believe that the Niners should target a QB through the draft.
They can look at the second tier of prospects, such as Andy Dalton of TCU, Jake Locker of Washington, Christian Ponder of Florida State, etc. Possibilities in the second round or in the late first via trade if we see a run on the position the first night of the draft.
Or, go deeper with a name like Iowa's Ricky Stanzi in that third to fourth round range. A prospect that already worked out for Harbaugh in Iowa City.
However, we are talking about rookies that will need time (most likely an entire season) to learn and understand the NFL game. QBs that can develop under Harbaugh's coaching. And you need a veteran in place—one that can run your offense—in order to buy that crucial time.
Is Smith that veteran? I still have questions about him as a No.1 QB. There is talent in his game. Turn on the film and you will watch a QB that can make some plays. But overall production—and decision making—is what we should use to judge NFL starting QBs. And I don't see that. He has had opportunities to perform, and although Smith has worked under multiple coaches on the offensive side of the ball, production sells in this league.
As I said above, he does look like a fit for Harbaugh and his offense. And we will have to wait for this to play out (the same with any veteran player movement during the lockout) before we find out if he is coming back to San Francisco.
Yes, new coaches can impact players. I have watched it play out with veteran holdovers during my own career, and that seems to be the idea here with the Niners. And we could see Smith turn out to be the answer for Harbaugh during the 2011 season.
But I'm not sold on the idea yet--because he hasn't shown enough consistent play for me to believe this is the year it all comes together under center.
Follow me on Twitter: MattBowen41