November 10, 2010 -
Matt Bowen
Is benching Henne a panic move in Miami?
Dolphins coach Tony Sparano made a bold move today when he announced that veteran Chad Pennington would replace Chad Henne at the quarterback position. From my opinion, it sounds—and looks— a bit like a panic move. But when your QB goes on the road in a big game and throws three interceptions, change is an option. Have to give that to Sparano.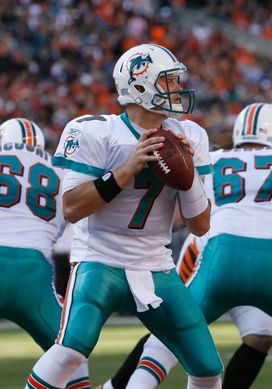 ICONHenne will be replaced by Chad Pennington in Miami.
I was high on Henne and the Dolphins heading into this season, but the former Michigan QB has been poor with his decision-making, his accuracy and in the red zone. At 4-4, the Dolphins aren't out of anything when it comes to the AFC East. There is still time to make a run and challenge for that division title—starting Sunday when the host Vince Young, Randy Moss and the Titans.
But, I have questions about Pennington. Is he an upgrade in talent, leadership managing the game plan, etc.? Why make this move now, and what does Sparano hope to gain by giving the hook to his No. 1 guy? That leads to me to wonder what the Dolphins will look like moving forward on offense. Still have to get Brandon Marshall and Davone Bess involved in the passing game, but I do see a unit that could become very run-heavy in the game plan. More Ricky Williams and Ronnie Brown in those classic 2-back downhill schemes that provide play action opportunities and the movement passes (boot, sprint, dash).
Without a doubt this is a great opportunity for a veteran quarterback like Pennington. They don't come along often when you are behind a young talent with a big pro arm. But, production sells and lack of production sends you to the bench. Now, let's see if Sparano truly made the right call here and how it translates to the field and the scoreboard on Sundays. Because, it is tough to develop Henne for the future when he is on the bench.
Follow me on Twitter: MattBowen41