March 30, 2011 -
Matt Bowen
Is CB Jimmy Smith a first-round pick?
CB Jimmy Smith is an intriguing prospect and NFL scouts I talk to have him all over the board. Size and speed at the position, but some character concerns that need to be factored into his overall evaluation. Let's look at what you get from the former Colorado standout and decide if he deserves a first round grade.
Positives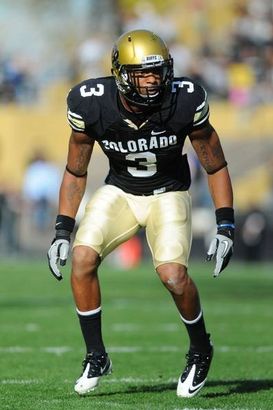 ICONSmith has the talent and size that could produce a first-round grade.
- Can play press-man. Sounds too simple for a CB, but there are multiple prospects at the position that will come into the league and struggle at the line of scrimmage with veteran talent at WR. Talked about the size above (6-2, 211) and Smith also has the length to re-route WRs at the next level. That is a big positive when I look at CBs, because the NFL needs prospects that can play blitz coverage.
- Smith has NFL speed. Ran in the mid 4.4's at the combine in Indianapolis. That sells in the NFL when CBs are asked to align in a press look, turn their hips and get down the field on the 9 (fade) and 8 (post). Plus, when you can carry 210-plus on your frame and still run a sub 4.5 in the 40, the NFL is going to like what they see. As we have talked about before, CB is a stopwatch position.
- Overall athletic ability. Although he can play inconsistent football at times, with Smith you get a prospect that can win matchups. He will play outside of the numbers, but I also see talent that can match up with a TE removed from the core of the formation. Isn't the most sound tackler, but in the right system he can set the edge of the defense. Plus, he will have to tackle if he wants to see the field in the NFL. That's part of the job.
Negatives
- The character concerns. Hard to find a scout that doesn't talk character with Smith. What you have to decide as an NFL coach or GM is how those issues translate to the football field. Do your homework and see if he is a fit on your squad before you take him off of the board--and weigh the talent into the equation.
- Only had three interceptions during his career at Colorado. Yes, you can throw away from top tier talent in the secondary in college football. But with no picks as a senior, you have to wonder about his ability to make game changing plays in the NFL. Will he develop into a playmaker? You need that with an investment into a first-round corner.
- Footwork can get sloppy—especially when he is asked to play from an off-man alignment. Any DB that his size will struggle to get in and out breaks, but this can be coached. Plus, from my perspective, top college players can get away with poor technique because they can make up for up with athletic ability. Not on Sundays. No question that technique is developed for all rookies at the NFL level, but don't think you are getting a completely polished CB with Smith. He needs work.
Where do I grade him?
I look at LSU's Patrick Peterson, Nebraska's Prince Amukamara and Miami's Brandon Harris as the first three corners to come off of the board in the first round. After that, I do think the discussion turns to Smith and Utah State's Curtis Marsh. Character concerns are something to be talked about during the draft prep of NFL teams, but the overall talent, athletic ability and size are just too much for me to pass up with Smith. I would give him a late first-round grade--and if he slips into the second you are getting some value.
Follow me on Twitter: MattBowen41