August 25, 2011 -
Matt Bowen
Is C.J. worth 'QB money?'
The Titans won't compete in the AFC South without Chris Johnson. Try to spin it any way you want, but this team needs the playmaking ability of Johnson to flip the field, produce explosive gains and create scoring opportunities for QB Matt Hasselbeck.
To do that, you have to pay the man—with big money.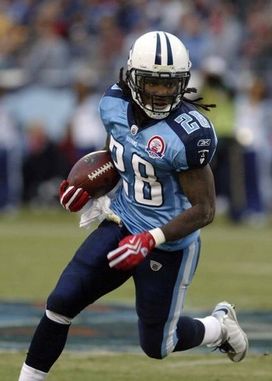 ICONThe Titans should make Johnson the highest paid RB in the league, but they can't hand out QB money.
Recently, the NFP's Andrew Brandt detailed the negotiations (or standoff) between the Titans and Johnson. And yesterday, we heard again that the two sides are far apart on reaching an agreement.
From Johnson's perspective, he deserves a new deal—because his production speaks for itself. All you have to do is turn on the tape to see that.
Make him the highest paid RB in the league? No questions here. Pay him more than the Panthers DeAngelo Williams ($21-million in new guarantees) and set the eventually bar for the Vikings Adrian Peterson.
However, the one thing you can't do is pay Johnson with "QB money" (or Larry Fitzgerald money). Have to draw the line there, because the position he plays doesn't warrant that type of cash. Running backs wear down. And when their legs go—and the burst through the hole vanishes—they become easily replaceable.
Saw it myself playing vs. Eddie George. One of the top players at the position when I came into the league as a rookie. But by the time he put on a Cowboys uniform, a shell of what he used to be.
Does that put the Titans in a tough spot? Of course, because from a football standpoint they need Johnson to show up. No practice time during camp, no live action in the preseason. In fact, they need this deal as much as C.J. does.
Like I said above, Johnson should be the highest paid player at the position, and I would work up a contract today to get that done. Love watching him play the game. But there are limits here—because his production won't last down the road.
That's life at the RB position in the NFL.
Follow me on Twitter: MattBowen41