July 13, 2010 -
Matt Bowen
Is cutting Vick a real option in Philly?
The varying reports on the future of Michael Vick in Philly this week are interesting, because the act of cutting a player in this league is very easy to do. The coach calls him into the office, throws out some carbon copy speech that is used across the league and he moves on. Simple, and it takes about five minutes.
But, the hard part about cutting Vick in July — weeks before camp opens — is finding a replacement. We don't often see NFL teams letting their No. 2 QB walk this late in the offseason. Does that mean it can't go down? No, but we have to look what type of impact it would have on the Eagles.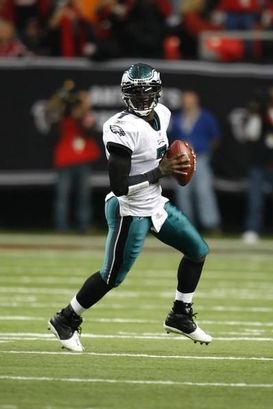 ICONThe Eagles' Michael Vick.
I will be the first to admit that I question Vick's ability to ever regain a starting role in the NFL for a productive offense, but that doesn't discount his ability to sit behind Kevin Kolb. When he did see the field in '09, he was used as a gadget guy of sorts in the wildcat and other creative schemes by head coach Andy Reid.
But that is just window dressing.
His real value to the Eagles is the stability he can provide to this club if Kolb were to go down. Finish out a game. Step in for a week. Handle the west coast offense and run the game plan. Every team needs that, and we saw a perfect example of this when the Ravens paid a good price to bring in former Rams starter Marc Bulger to sit behind Joe Flacco.
What do you have behind Kolb if Vick were to be let go? Mike Kafka from Northwestern. A player who may develop into a pro QB with time, but you can't go into a game with a fourth-round rookie one play away from taking over an offense in the NFL. That's not going to fly. Plus, the rest of the team needs to know that they have a player behind the No. 1 guy that can win games for them.
I've heard the Jeff Garcia talk, and I do like what he can bring to any football team, but not Philly. This is Kolb's team, and bringing in a player such as Garcia — who wants to compete — just creates unwanted controversy.
Instead, you have to talk about players like Todd Collins, Mark Brunell, etc. Veteran QBs without a job. Not sexy names by any stretch, and therein lies the rub. You're handing a guy the playbook on the first day of camp and hoping that he is the answer if your No. 1 goes down for a period of time.
Is Philly prepared to do that by releasing Vick?
Ready for fantasy football? Click here to purchase the Total Access Pass/ Draft Guide from the NFP.
Follow me on Twitter: MattBowen41