January 24, 2011 -
Matt Bowen
Is it fair to judge Cutler?
Everyone has an opinion today on QB Jay Cutler. Fans, analysts, former players, current players, etc. You can't talk NFL football now without the discussion trending towards the Chicago QB. From calling him a "quitter" to saying he deserted his team, it is going to be a rough week for Cutler.
But does it have to be? Really, let's discuss this and then finally move on to the Senior Bowl week down here in Mobile and the Super Bowl XLV matchup in Dallas.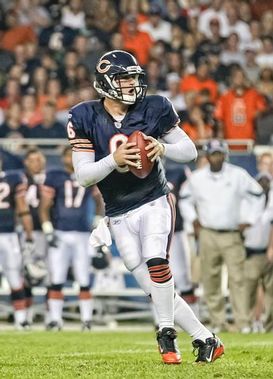 ICONCutler is taking heat for his knee injury in Sunday's NFC title game.
Every player in this league (current and former) has been in a situation similar to this to with an injury. Your body tells you when it is hurting. Mentally you are suddenly challenged. Can you push through? Can you still make plays? Can you play at a level that is necessary to compete in the NFL? I have asked myself the same questions during my career in a ball game. Take a shot to the knee, strain a hamstring, etc. As pro—and something I truly believe in—you find a way to get it done. That is the job description of a player at this level. You play hurt, you play sick and you go back out there when your body tells you to shut it down. But sometimes it doesn't doesn't work out and I have been there plenty.
The issue, from my perspective, is that I can't tell you how bad Cutler was hurting. I can't feel that pain. None of us can.
Would I want him out there if I was playing for the Bears yesterday? Of course. That isn't even a question. But when a player can't go back onto that field, you put the next guy in. It is easy for all of us (myself included) to sit here on a Monday morning and talk tough. I say plenty of it yesterday and am still reading it today. From my perspective, that isn't the way to go with Cutler.
I get the idea of what was at stake. An NFC title game. A ticket to Super Bowl XLV. Playing the Green Bay Packers at Soldier Field. It doesn't get bigger than that for the fans and the players who have stepped on the field in this rivalry.
But we are talking about a player that has taken a beating behind a poor offensive line all season and continued to play. Even yesterday, he went back on the field and try to make it work. That's the sign of a pro in my book. Pull yourself back out there. But even then, you know as a player when you can't go. It is obvious that something isn't right and your game just won't be good enough to compete.
I am not going to say that Cutler was the most liked player in the NFL before yesterday—because he's not. But I did like seeing Brian Urlacher—a player with a lot of respect in the NFL—stand up for his quarterback.
Bottom line: he couldn't go. I wanted to see him out there playing quarterback in this game just as much as the next guy, but let's drop the tough talk and move on. No reason to bury Cutler.
Follow me on Twitter: MattBowen41