June 07, 2011 -
Matt Bowen
Is Kyle Shanahan a 'control freak?'
Today I saw an interesting post over at Pro Football Talk from Mike Florio, commenting on Kyle Shanahan's controlling nature as it applies to his offense (based of some comments from QB Rex Grossman).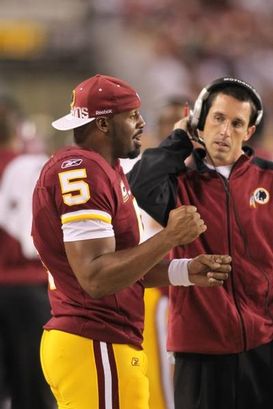 ICONKyle Shanahan is similar to most coaches in the NFL when it comes to seeing the proper technique on the field.
Here is what the 'Skins QB had to say (via SiriusXM NFL Radio and Dan Steinberg of the Washington Post) about the younger Shanahan: "During the course of a regular game, Kyle Shanahan wants you to run the offense exactly how he wants it, down to the amount of hitches you take to go through your progressions. And if you really study that and rep that in practice, then it becomes a lot easier during the game. You're not thinking as much as your body just goes through the progressions. That's some of the things that's really helped me start the second half of my career, and I feel like I'm a much better quarterback because of that."
Now, Florio does bring up a solid point when applying this to Donovan McNabb, as any veteran QB is going to struggle with a new staff that is detailed in terms of technique. Change the way you take your drop, read your progressions, etc. Tough spot for any veteran player in this league when a new staff comes to town.
However, to talk of Shanahan as somewhat of a "control freak" is a bit mis-leading—because most NFL coaches teach the same way.
I saw it during my career, and although the QB position is magnified in terms of proper technique, it applies to the secondary, D-Line, RBs and so on. You don't run the scheme properly (or practice the technique of the scheme) you get beat. Pretty simple in that regard.
When Gregg Williams came in to run our defense in Washington, we all got a taste of this. Take a false-step in practice? That was a killer in the film room before dinner. The defense was coached hard and "accountability" was the big word out on the field.
It applied to Sundays as well. You take that same false-step (or miss a tackle by ducking your head), you found yourself on the bench—replaced by the next guy in line. I know that it made me a better player (and most of my teammates from that defense would agree), because it forced you to focus on the little things that go into the success of a certain scheme.
No different than the comments from Grossman above. But calling that "controlling" doesn't add up from my perspective.
Follow me on Twitter: MattBowen41