March 03, 2011 -
Matt Bowen
Is Newton's draft stock up or down?
Since Sunday, when Cam Newton threw the ball at the combine, his draft stock has been all over the board. And that is exactly what can happen when a prospect doesn't meet the hype in Indianapolis.
The Auburn QB didn't throw the ball well, and we could all see that. Issues with his footwork, accuracy and overall technique when he was asked to simulate a drop back action and deliver the football.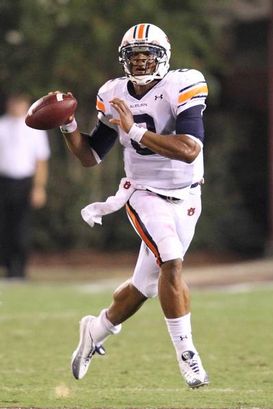 ICONNewton will throw again on March 8th at the Auburn pro day.
And that's where we sit right now—judging a prospect with top ten talent on how he threw the ball vs. "air" in a controlled environment. One long time NFL scout I talked to on Wednesday said of the workout: "It doesn't tell me much."
So what's next for Cam? Auburn will host its pro day on March 8th and the entire league will be in attendance watching him—again. That is less than a week from now. Will we really see that much of a difference? Maybe, but again, it is a simulated workout.
The more NFL coaches and scouts I talk to when it comes to Newton, the more I hear about this guy's raw talent, skill set and unique ability to make plays from the tape they watch. And, just like LSU's Patrick Peterson, we are talking about SEC game tape—which is treated like gold to talent evaluators.
But there are still questions—multiple questions. Let's run through a couple of them…
1. Accuracy: Will Newton put the ball on the numbers of the wide receiver throwing the 7 cut (corner route), skinny post, etc? Tough throws you have to make vs. multiple coverage looks on Sundays. And unlike the college game, you can't get away with mistakes. Throw the ball behind the receiver on an outside breaking route and it is going the other way at the next level.
2. Footwork: Didn't look good at the combine, but as I wrote here at the NFP, we are talking about a QB from the college spread offense. Newton has to be coached up at the next level from reading the defenses to the techniques of a pro stye offense. However, footwork at the QB position is correctable. I am not concerned about that.
3. Leadership: Still a major issue with some clubs. Can this guy lead my team? And, if I draft him in the top ten, will he handle the pressure of playing QB at the NFL level. That can be a real concern with Newton. But, as coaches and scouts have always told me, it only takes one team to fall in love with a player.
Where do I grade him now?
Measurables are often ignored when we talk about the QB position, but I can't do that with Newton. I see a 6-5, 248-pound QB that runs a sub 4.6 40 with a pro arm—and he was the best player in the nation in 2010. Without question he needs work, solid coaching and time to adapt to the pro game. I understand that, but for the future of my team (that might be unsettled at the QB position), I take him off of the board in the top ten.
Follow me on Twitter: MattBowen41