February 14, 2011 -
Matt Bowen
Is Plaxico Burress a realistic option in 2011?
Over the weekend, agent Drew Rosenhaus reassured everyone that his client, WR Plaxico Burress, would be ready for a return to the NFL upon his release from prison in early June. Whether we want to buy into the agent talk in February is up for discussion, but there is sure to be interest in the former Giants' WR for the 2011 season.
We all know that. Talent sells in the NFL and if Burress does show that he is ready to play, I expect to see multiple teams make a run at him.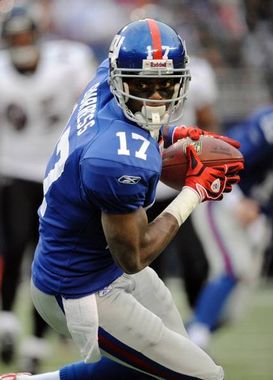 ICONBurress could find a new NFL home once he is released from prison in early June.
Burress is the type of WR that can work exclusively outside of the numbers—and he is a tough matchup on any inside breaking route (think 3-step and intermediate game). Receivers that can win at the line of scrimmage and run the deep dig, slant and skinny post are a luxury to have. High percentage throws that you can compete against Cover 1, Cover 2 and vs. sight adjust routes (hot reads) when the offense sees pre-snap pressure.
What interests me even more is what you can get out of Plaxico down the field and in the red zone. I don't see a receiver that has elite top end speed, but think about throwing the 9 (fade) or the deep 7 cut (corner route). Burress can high point the football and make that play for your QB. Big body, tough to defend when the ball is in the air.
And that takes a step forward in the red zone.
There are two routes that are in every single NFL playbook inside of the 10-yard line: the slant and fade. As a DB, you work against these two routes every Friday throughout the season during red zone drills. I would have no issue lining up Burress outside of the numbers and throwing the fade to the back corner of the end zone or letting him work vs. a defender's leverage inside on the slant. Quick, one-step throw that results in points.
After the draft, and eventual free agency this offseason, there will be teams that need to add a legit player that can win outside.
However, there are questions to ask about Burress.
We are talking about a receiver that has been in prison for the last two seasons—and hasn't played in an NFL game since late 2008. That's a long time without seeing real, competitive game action against top talent. Can he come in and still produce like the player we saw before? Tough to call for someone that is now 33-years old.
What type of football shape is he in? Very different that just lifting weights and cardio. Anyone can do that. I am talking about football movements. Functional training that takes place in the offseason. How does his body respond? Can he hold up for an entire season?
I am interested to see how this plays out, because I want to see what Burress has to offer. There is both talent and risk in adding him to your roster. Let's see how this situation plays out.
Follow me on Twitter: MattBowen41
Click here to sign up for the NFP chalk talk seminar in Indy