August 22, 2011 -
Matt Bowen
Is Pryor the QB of the future for the Raiders?
The Raiders draft and grade prospects based on two main factors: size and speed. With Terrelle Pryor, that is exactly what Al Davis gets after selecting the former Buckeye in the third round of today's supplemental draft.
Too high of a value for a QB that I see as a project? I think so, and given the five game suspension that Pryor is expected to serve to start the season (pending an appeal), Oakland is looking at a player that will need some pro coaching to prep for the future. Here are some quick notes on the move to draft Pryor…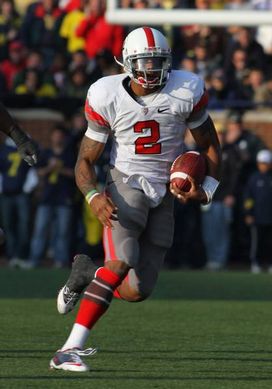 ICONPryor goes to the Raiders, but he needs time to develop under NFL coaching.
- Mechanics and technique. That has to be the goal for Pryor in the 2011 season. Get on the field and start developing the skill set that is required by the position at the NFL level. Forget about athletic ability here, because that isn't going to win games on Sundays. Pryor needs to be trained to manage the pocket and work within the Raiders offensive system.
- The Raiders didn't invest in the QB position during April's draft. Is Pryor a plan for the future? Something that needs to be discussed. Treat him almost as a "redshirt" freshman this season and start to coach him up to compete for a job next year. Because the current crop of QBs for the Raiders (Campbell, Edwards and Boller) aren't going to force opposing defensive coordinators to lose sleep.
- This isn't going to happen overnight. Could the Raiders create some unique personnel packages for Pryor once he is off the suspension and back on the active roster? Of course (and it could be a way to get him on the field), but in terms of an immediate impact, I don't see one right now.
- Don't speculate or start making future playoff plans out in Oakland. This is a move by the Raiders to invest in a talent that will "flash" on film. Same thing I saw when checking out the QB vs. Iowa, Miami and Wisconsin on coaches tape. Can do some special things on the football field, but vs. NFL talent, I still have some doubts as to whether he will transition into a true starting QB at this level.
- Position change? A topic that has been discussed around the league and has already been broken down by the NFP's Wes Bunting. That is always a possibility when talking about athletic talent, but that should only come as a last resort from my perspective. But as I talked about above, it is a way to get him on the field.
Follow me on Twitter: MattBowen41