May 12, 2011 -
Matt Bowen
Is Reggie Bush worth $11.8 million this season?
Reggie Bush is scheduled to make $11.8 million from the Saints this season. Big money for any position in this league. Plus, a number that will have to come down once we open the doors on the NFL lockout—if the RB wants to stay in black and gold.
And that brings up an interesting point discussed by Mike Florio over at ProFootballTalk.com</a> on Tuesday. If Bush truly wants out, that is exactly what he will get. Because the Saints won't pay that number (nor will any other team in the NFL). Cut him or trade him. The RB will be in a different uniform in 2011.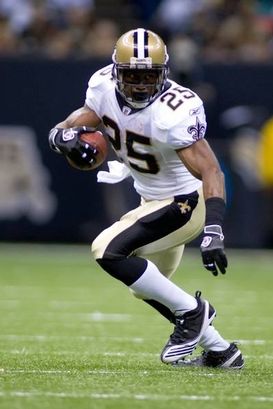 ICONBush adds value to the Saints from a play calling perspective, but at what price?
From a playbook standpoint, I still see Bush having a major role for the Saints during the 2011 season. He is dynamic when we talk about personnel, X's and O's, plus the multiple ways you can get him the football.
That sells if I put myself in the shoes of an offensive play caller. The type of running back that makes you stay late at the office working on the chalkboard—because there is so much you can do from a matchup standpoint with his overall skill set.
Empty formations. Pre-snap motion. Put him in a position where he can exploit a defense. And the same can be said for opposing coordinators that have to dedicate some extra practice time to limiting him in creative formations.
I get the fact that he runs out of bounds and I can't call him a physical football player in this league. But that doesn't mean I wouldn't want him in the huddle during crucial situations of the game.
But not for almost $12-mil. You don't pay that for a situational football player—which Bush has become. Evident of the Saints trading up to get Alabama's Mark Ingram. A rookie RB that will produce in the downhill power game that is essential to winning in the NFL.
Another angle at play here is Bush's recent comments on Twitter and his failure to show up for the player workouts organized by QB Drew Brees. I'm not going to sit here and tell you these workouts will get New Orleans back to the Super Bowl (need coaching on the field for that), but they still serve a purpose.
And veteran players know who is on board with team goals very quickly.
Jeff Duncan (the writer you need to follow for Saints' news) of the New Orleans Times-Picayune highlighted Bush's no-show act and brought up the discussion of leadership with the RB. Something that has been an issue with the club.
What do we have here at the end of the day? A big contract for a player that isn't an every down running back. Value for sure on Sundays in my opinion, but not nearly at the price he is scheduled to make. If I am the Saints, I work with him (and his agent) once actual communication is allowed in this league and try to come to a number that satisfies both parties.
If not? Well, then I go back to the chalkboard and take his name off of the depth chart. Sean Payton is too talented of a play caller to let one guy impact his season. And the Saints will still put points on the scoreboard without him.
Follow me on Twitter: MattBowen41