January 10, 2011 -
Matt Bowen
Is Starks the missing piece in Green Bay?
Heading into Wild Card weekend in the NFL I had questions about the Packers' offensive attack. Multiple weapons on the outside and a quarterback in Aaron Rodgers that should be mentioned with the other elite names in the league: Brady. Manning, Brees, etc.
But I couldn't get past the idea that the entire game plan would most likely fall into the lap of Rodgers. Tough to produce in playoff football when you haven to line up in empty sets on 3rd and short or inside of the 10-yard line and throw combination routes instead of playing a physical brand of football with the running game.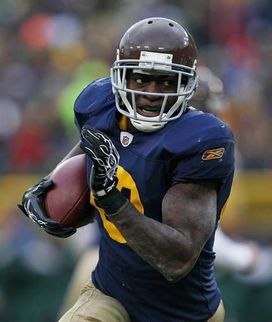 Packers' running back James Starks.
That changed yesterday. As I wrote in my post game notes from the Packers Wild Card win at Philly, Green Bay had that balance on offense because of running back James Starks. And we aren't talking about exotic formations or window dressing here with pre-snap motion, etc. What I saw was a football team that could line up in their big personnel and win at the point of attack. That sells in the playoffs.
Starks can provide that production the Packers have missed since Ryan Grant went down with an injury. That was supposed to be Brandon Jackson, but we saw yesterday that Starks in an upgrade in talent. The Packers needed a running back that could get downhill, cutback and find open running room. Produce in the Lead Strong, Lead Open and the Power O. Basic running plays that are installed on the first day of mini-camp—but are crucial to winning in the post season. That's it. Be a part of the offensive attack and take some of the stress off of Rodgers to make every play in order to win games.
And I always go back to balanced football. Think of the Falcons offensively, or the Bears in the second half of the season. They can control the clock and move the ball on the ground. That adds to your play action route schemes and also will change the way opposing defenses game plan.
Can Starks replicate his 123-yard performance this Saturday night in Atlanta? Maybe, but we are talking about a balanced approach to play calling. That's more important than overall numbers or yards per attempt. And it will also impact the way Atlanta prepares for Green Bay this week.
Does that make the Packers' offense more dangerous? Without a doubt—because you have to run the ball in the playoffs. Not bad for an unknown rookie who might just be that missing piece to a long playoff run for Green Bay.
Follow me on Twitter: MattBowen41