March 14, 2012 -
Matt Bowen
Is the backup QB now a priority in the NFL?
When I look at the backup QB position in the NFL, I think of the draft. That's where you find your No.2. A player you can develop under your own coaching and prep to step in, manage game situations and eventually become starters in the league.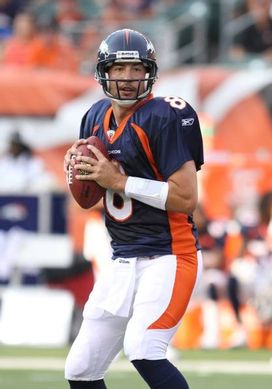 ICONBoth Orton and Campbell landed backup roles via free agency.
However, less than 24 hours into free agency we have seen two QBs with starting experience land backup roles. On Tuesday, it was Jason Campbell heading to Chicago to play behind Jay Cutler. And today, that trend continued with Kyle Orton signing on with the Cowboys to take that No.2 spot behind Tony Romo.
After the 2011 season in Chicago (which fell apart after Cutler's injury), I can see why new Bears GM Phil Emery invested in an experienced backup. Campbell is an upgrade in talent over last year's backup QB, Caleb Hanie.
And we can say the same for the Cowboys. Upgrade the roster and add depth at key positions. That's what you get with Orton on call as the No.2 in Dallas.
Think of it as security. Both clubs know they can continue to run the game plan and don't have to simplify the playbook with experienced veterans that can step into any situation on the field.
The flip side? I know there are plenty of opinions on both Campbell and Orton, but couldn't we see a situation where both QBs could land on teams that at least provided the opportunity to compete for a starting job? Because that is something they won't get this August in Chicago or Dallas when training camp opens up.
Maybe both QBs get on the field this year due to injures. And if that is the case, then Chicago and Dallas made smart moves investing in backup QBs that can step in and win games.
Follow me on Twitter: @MattBowen41