October 25, 2010 -
Matt Bowen
Is the magic gone?
Brett Favre looks old.
That magic from the 2009 season? Gone. Replaced by an old man struggling to move in the pocket. The same guy limping to climb the podium after another Vikings' loss—one filled with mistakes and poor decisions from the quarterback.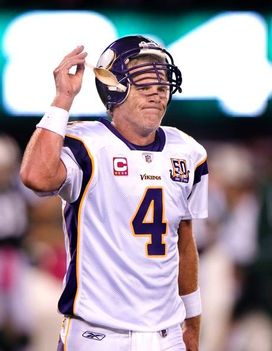 ICONBrad Childress almost pulled Favre last night in the Vikings' loss at Lambeau.
We all know about the off the field issues. No need to beat that into the ground, but they do become magnified when we don't see the results on the field. Just another thing to add on top of what has been a miserable start to the season. The drama that has become Brett Favre.
Sure, we do still see glimpses of what Favre can deliver, making the throws that we are only accustomed to seeing from No.4. But, those don't come at the regular rate. There is no sense of consistency anymore for the Vikings' QB. Instead, we are watching a quarterback who is falling apart, breaking down quarter by quarter. First it was the elbow. Now, the ankle.
Head coach Brad Childress even admitted to almost pulling Favre from the field last night in the 28-24 loss to the Packers. Something we don't hear—ever—when it comes to this guy. He plays through injuries, he takes hits and he shows up to play, and play well. Not last night at Lambeau. Not in the loss to the Jets on Monday night when he threw the pick that sealed the win for Rex Ryan's club. Not in the NFC Championship game last January, where this all really started.
The question for Childress is pretty simple: does Favre give him the best chance to win?
At 2-4, the Vikings are going to have to put a run together. Tough to do in this league when you get turnovers instead of production from the quarterback position. The ankle injury is obviously the first issue to address. Can he plant that front foot and follow through on his throws? Can he step up into the pocket? Can he slide away from pressure? Basic techniques that your QB has to perform on Sunday.
Time to find out what Favre has left.
Update: According to reports, Favre has two stress fractures in his ankle and is in a walking boot... Does the streak of 291 straight games come to an end? Stay tuned.
Follow me on Twitter: MattBowen41