August 18, 2011 -
Matt Bowen
Is the Panthers QB competition coming to an end?
Cam Newton is going to make the start for the Panthers on Friday night vs. the Dolphins, and we know where this is going if the rookie puts up some solid production.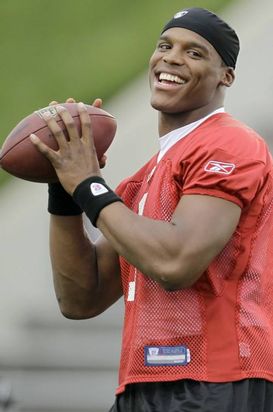 Newton can win the No.1 job in Carolina with a big night vs. Miami on Friday.
Newton ran with the second team last week vs. the Giants, and now we get to see how he plays against starting defensive talent in Miami. Its only the preseason, right? Not for Newton—because this is a true opportunity to win a starting job.
Let's be honest here. If the No.1 overall pick goes out and gets the job done, can you see any reason why Ron Rivera wouldn't name the rookie his opening day starter over Jimmy Clausen moving forward? He wasn't drafted in Carolina to watch from the sidelines.
However, there is still some work to be done by Newton before we can call him the starter.
Going into the first weekend of preseason games, I broke down how to grade rookie QBs as they took the field for the first time. And those still apply. Manage the game plan; throw the 3-step route tree, read coverages, etc.
But the key for Newton is turnovers. Can't have them. That has to be the top priority for the rookie as he heads to the stadium tomorrow night. Protect the football at all costs.
Yes, you want to see Newton attack defenses, show patience in the pocket (everyone knows what he can do in the open field) and use the vertical passing game. But the last thing Rivera and the coaching staff wants to deal with is turnovers.
Those kill drives, take points off the board and put your defense in adverse situations on the field. Plus, they make coaching staffs sick on the sidelines.
I'm excited to watch him play. It's a big opportunity for a player that I believe can be a special talent in this league. But he still has to come out and produce in his first true test in the NFL.
Follow me on Twitter: MattBowen41