September 18, 2011 -
Matt Bowen
Is there a game plan to stop Brady and the Patriots?
Watching the Patriots offense today in the 35-21 win over the Chargers, I started to think about how I would game plan New England—and I still can't figure it out. Why? Because of the TE position.
Here are some quick thoughts…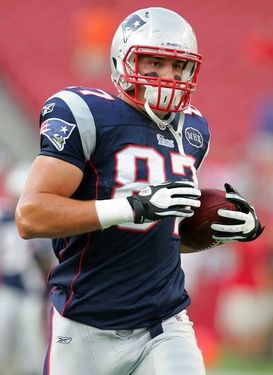 ICONHave a game plan to stop Gronkowski and Hernandez? I'm still trying to put one together after another Patriots' win.
- Tom Brady has shown us the ability over the first two weeks of the season to spread the football around. He can work the underneath route combinations, use the WRs in the intermediate passing game and continually target his TEs in the middle of the field—plus the red zone. And that doesn't count what we see from the RB position on the option routes vs. a LB or a safety. A lot of work as a defensive play caller to create a game plan that accounts for the number of options in the passing game.
- The matchup issues vs. Hernandez and Gronkowski. I view Hernandez as another WR in this offense. Align him in the slot, use pre-snap motion and get him down the field in a matchup he can win. Good body control and can change directions to work away from a defenders leverage. However, with Gronkowski you are asking a safety (who is going to be undersized) to play press-man or work from an off-position and matchup physically vs. the TE. Even if you have solid coverage, Gronkowski can use his frame to put himself in front of the ball on top of his great hands. No real answer there outside of serious pressure to move Brady out of the pocket.
- So, how do you handle this? Working against Hernandez, I would go with a FS (with cover skills) or a nickel corner. Aren't many strong safeties that are going to match him athletically and a LB isn't going to cut it. With Gronkowski? Have to get hands on him at the line of scrimmage or play with a Mike Backer in Cover 2 that can run—and hit down the field. But again, I'm reaching here for an answer.
Bottom line: Brady is special in the pocket. And these two TEs complete this offense to the point where the QB can throw the ball anywhere on the field. Tough to stop.
Follow me on Twitter: MattBowen41