March 10, 2012 -
Matt Bowen
Is there still value with Brandon Jacobs?
Here's what I'm thinking with Brandon Jacobs: a situational RB that can be targeted as a second tier free agent when the market opens up on Tuesday afternoon.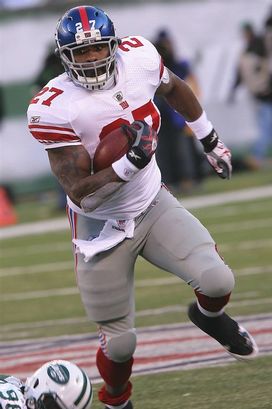 ICONJacobs can fill a secondary role at this stage of his career.
At this point in his career and with is age (will be 30 years old entering the 2012 season), clubs looking for help at the RB position must know what they are getting in return from Jacobs.
There is value here, but it is limited.
With the former Giants' RB, you have to focus on the downhill power game (Lead Open, Power O, Counter OF) and the inside zone out of one-back alignments. I still see a player that can move the sticks, use his vision to find cut back lanes and break tackles at the second level of the defense.
And from the perspective of any safety that wants to fill the hole or attack the line of scrimmage from a Cover 2 alignment, you better lower your pad level on contact vs. Jacobs. Size and power once he gets vertical up the field.
However, any offer that is given to Jacobs has to reflect his true value. He can't be paid like a No. 1 and his ideal fit will be in a scheme that utilizes his skill set in certain game situations (short yardage, red zone, 4-minute).
Don't overpay for the RB. Plus, there has to be an understanding that he will fill a secondary role in your backfield. Again, I do see value with Jacobs as a free agent if he is willing to accept that he won't be paid or featured on game day like a No.1 back.
Want to learn how to study the NFL Draft? Click here to sign up for the NFP's online scouting class.
Follow me on Twitter: @MattBowen41