August 18, 2011 -
Matt Bowen
Is there value in drafting Terrelle Pryor?
The league announced today that former Ohio State QB Terrelle Pryor is eligible for the supplemental draft. And after a delay, it is now scheduled to take place on Monday, the 22nd. However, with the five game suspension he will have to serve at the start of the regular season (that is essentially carried over to the NFL from Ohio State), I am struggling to see the value of spending a future draft pick on the QB.
Break it down here in parts with Pryor…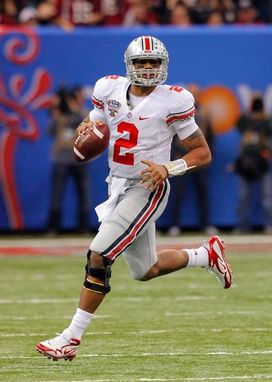 ICONWith only two weeks of camp, the evaluation process on Pryor will be limited.
- Two weeks of camp. That is all you have with the rookie. How much time are you getting here in terms of evaluation to grade and project the talent you have? Every player needs practice time and game time in the preseason. And as I have written before, camp is crucial to any rookie as part of the transition process into the NFL.
- Pryor can be looked at as a project. This offseason, I watched the coaches tape of Pryor vs. Miami, Iowa and Wisconsin. Without question, the QB has some real athletic talent—and he can make plays in big situations. But the mechanics, technique and footwork at the QB position need to be polished and developed.
- With the suspension, I see Pryor as essentially a "redshirt" player in his first year in the pros. Once the regular season starts, he won't be able to practice for the first five weeks and that means more time lost developing under much needed NFL coaching. Game plans take precedent in the regular season over rookies that aren't on the practice field.
We will find out on Monday which club is willing to give up a 2012 draft pick (and value they are willing to spend) when the supplemental draft plays out. No doubt Pryor is in a unique situation after leaving Ohio State—and maybe someone sees some future talent there to work with.
But we have to remember, that this is the NFL. Pryor has to show in two weeks of training camp that he deserves an opening day roster spot. That's not going to be easy. Because he still has to make a team.
Follow me on Twitter: MattBowen41