March 01, 2012 -
Matt Bowen
Is this the end of the line for Hines Ward?
I've always respected Hines Ward as a football player and it goes beyond his numbers as a WR. The 1,000 receptions and two Super Bowl rings will probably lead to the Hall of Fame. I agree with that because he belongs in Canton.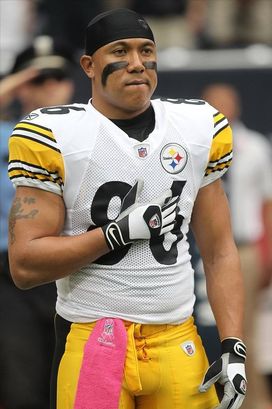 ICONAfter being released by Pittsburgh, will Ward find a new team in 2012?
However, from my perspective, I just loved the way he played the game. He was a physical and tough at a position where most players would shy away from contact or go into a shell if they were asked to block a SS or a LB.
Not with Ward—because he made DBs nervous. Relax in the secondary and he would clean you up. And it got very quiet in those meetings when you saw Ward light up someone on the field with a crack block.
But after his release on Tuesday, I have to wonder what's next for the WR. The Steelers didn't offer Ward a chance to take a pay cut and that's a sign of a declining skills and a lack of production.
It happens to every veteran at some point in their careers. That is the reality of the NFL. And when the production drops (especially at the skill positions), it is time for the club to move on without you.
The question now is simple: will there be an opportunity for Ward to catch on with another team?
He might be a No.3 (possibly a No.4) on a team that needs a veteran player in the huddle, but there are some concerns. Can he still run, separate vs. a DB on inside breaking routes, win at the line of scrimmage and make plays after the catch? Skills you must have at the position to produce in this league.
Plus, whenever we talk about a WR that isn't considered a top target, special teams come into play. And its hard to give up a roster spot for a back-up that doesn't cover kicks on Sundays or play any sort of role in the kicking game. You can find a rookie (at a reduced rate) to fill up your roster and have an impact on special teams units.
Ward said he wants to continue playing in 2012 and that doesn't surprise me at all because veterans are competitive to a fault in the later stages of their careers. But is there a team (or teams) that is willing to find a roster spot for the veteran in 2012? That's the dilemma for a player with Hall of Fame credentials that might not have the overall skill set to consistently produce.
Want to learn how to study the NFL Draft? Click here to sign up for the NFP's online scouting class.
Follow me on Twitter: @MattBowen41