December 27, 2012 -
Matt Bowen
Is Vick 'playing for a job?'
Another opportunity. Another chance to put some good football on tape. That's how I see this game on Sunday for Eagles' QB Michael Vick.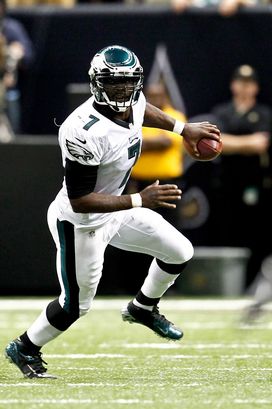 US PRESSWIREMichael Vick is expected to get the start for the Eagles this Sunday vs. the Giants.
With rookie Nick Foles out with a broken bone in his throwing hand, Vick is expected to get the start vs. the Giants. It will be the veteran's first game since suffering a concussion back in early November and I'm looking forward to seeing him play again.
I like Vick's game. I always have. And this goes back to my time in the league defending the quarterback when he was playing down in Atlanta.
We all know Vick is most likely going to play for a new team in 2013. That's the reality of this business when pre-season expectations aren't met. Vick will move on as will many other players in that Eagles' locker room. With a possible coaching change, Philly will have a new look next season.
And with so many teams in desperate need of change at the QB position (Cardinals, Jets, Bills, Chiefs, etc.), Vick should draw some interest in the offseason. Sure, he isn't going to see top dollar as he did with the Eagles just a couple of seasons ago and there should be concerns about his injury history.
However, there will be opportunities for the QB to play some ball next year.
This matchup does give Vick a chance to showcase his talents once again and reassure teams that he is still capable of producing in a live game situation. That's pro ball. I would look for Vick to be smart when he gets outside of the pocket (and in the open field), but I bet there are some teams that want to see the QB take a couple of hits. That's all part of the drill this Sunday.
As for Vick truly "playing for a job," I'm not buying it. That's for young and unproven talent at the end of the season. Those are real job interviews, resume builders early in careers.
Not with Vick. The NFL knows what he can do. This is just one game. And we should expect the veteran QB to find a new home this offseason.
Follow me on Twitter: @MattBowen41