March 11, 2012 -
Matt Bowen
Is Vincent Jackson the next move for Redskins?
Think about the Redskins after the deal on Friday night with the Rams to move up to the No. 2 spot in the draft. A prime position to now take QB Robert Griffin III off the board and begin to build a team around a unique talent at the position.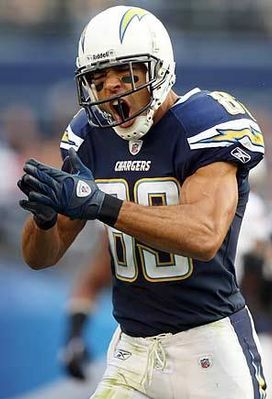 Will the Redskins target free agent WR Vincent Jackson this week?
But what's the next step?
Even with the skill set that Griffin is going to bring to the NFL, he will need some playmakers on the offensive side of the ball to aid in his development. And that starts outside of the numbers with the WR position.
The top target (and the top talent) on the market is Vincent Jackson. Size, speed and deep ball ability. The type of receiver that will show up on play action, the "high red zone" (20-35 yard line) and inside of the 10-yard line of the slant and the fade.
A legit No.1 that can run the entire route tree and make plays for the QB. What you should expect with a veteran that produces.
There is no question multiple teams have a high grade on Jackson with free agency opening on Tuesday afternoon. The Bears (a team desperate for a No.1), Bucs, 49ers, etc.
But looking at this strictly from the perspective of Mike Shanahan's ball club, making a run at the veteran wide out upgrades the position and gives their young QB a true target to lean on in the passing game along with TE Fred Davis.
The NFP's Joe Fortenbaugh brought up this same idea after the trade was announced and I couldn't agree more when it comes to making Jackson a priority this week for owner Dan Snyder (who is willing to spend big) and the Redskins.
Because once the 'Skins made the investment to move up into a position to draft RGIII, adding a talent such as Jackson is the next step to building an offense to make a run at the NFC East title.
Want to learn how to study the NFL Draft? Click here to sign up for the NFP's online scouting class.
Follow me on Twitter: @MattBowen41