December 15, 2011 -
Matt Bowen
Jags-Falcons: What to watch
Let's talk Jags-Falcons as we look ahead to the tonight's matchup in Atlanta. Here are three things I am going to keep an eye on—starting with the Falcons' offensive game plan.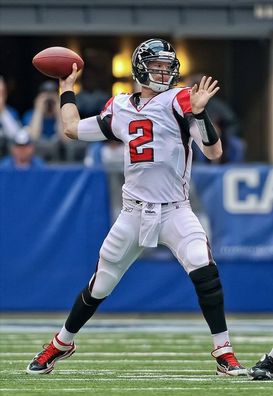 ICONRyan will have deep ball opportunities if the Falcons can establish the run game tonight vs. the Jags.
1. Falcons' offensive game plan: Matt Ryan threw for 4 TD passes in the win over the Panthers on Sunday, but when you are down 23-7 at the half, the game plan changes. Tonight, I am looking for more balance with RB Michael Turner and the vertical passing game off of play action. With Julio Jones and Roddy White, Ryan has two legit deep ball threats and he can also work the ball inside the numbers to TE Tony Gonzalez (think dig, post, seam). But it has to start with Turner and the run game. Look for the Falcons to use their base package (Lead Open, Lead Strong, Power O) vs. the Jags front seven.
2. Blaine Gabbert vs. pressure: Another opportunity for the rookie QB to improve his overall game on a national stage. From my perspective, Gabbert's development hasn't come as quickly as the Jags expected and he struggles to make plays vs. pressure-based schemes. If I am making the calls for the Falcons' defense, I work to bring edge pressure from the secondary on third down situations. Force Gabbert to make quick reads and throw the ball vs. blitz-man coverage. I'm interested to see what the rookie can do tonight when he has to step into throws vs. pressure.
3. Limiting Maurice Jones-Drew: Tackle. It almost sounds too simple on the NFL level, but if you don't wrap up on Maurice Jones-Drew, he will fill up the box score. When the Falcons drop a safety into the run front, it is crucial that they take on blocks with the proper shoulder, hold the edge and force MJD to cut back into pursuit. You need to put multiple hats on the Jags' RB when he gets up the field. Bottom line: this is a game they Falcons have to get when we discuss the NFC Wild Card race. And on a short week, technique wins. Let's see how many tackles Jones-Drew can break tonight.
Follow me on Twitter: @MattBowen41