February 27, 2012 -
Matt Bowen
Janoris Jenkins: talent vs. 'character'
Every year at the NFL Combine there is a debate on talent vs. character. And this time around it is no different when looking at North Alabama CB Janoris Jenkins.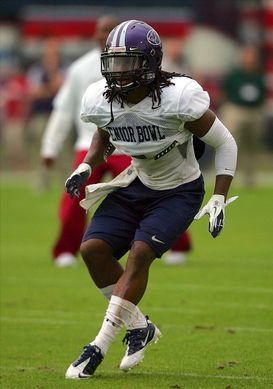 ICONJanoris Jenkins has a first-round talent at the CB position.
With Jenkins, we are talking about a CB that has first-round talent. I saw it myself last month down at the Senior Bowl in Mobile. He was competitive, drove on the football in one-on-ones and displayed good technique. Exactly what you are looking for at the CB position when grading talent.
However, Jenkins has some issues off the field. Multiple marijuana arrests (plus a failed drug test), and a dismissal from the Florida program before transferring to North Alabama for his senior season.
And that leads us back to the debate: what are NFL clubs looking for on their draft boards? Is it pure talent (regardless of the red flags attached to the scouting report) or character that reflects maturity and professionalism?
Here's what former Ravens head coach Brian Billick said (via Ben Volin of the Palm Beach Post): "Is this an ingrained part of his character, or did he just do some stupid things? And if it's the latter, then yeah, you can be optimistic about the NFL and what's at stake for him."
My take: the NFL needs to hear players with off the field issues come clean at the Combine. That's it. What you have done in the past is an issue—only if the true talent isn't there.
The league wants Jenkins' skill set. That's obvious and the scouts I talked to down in Mobile supported that. He can play a "premium" position in this league. And now we get to find out if his talent trumps the "red flags."
Follow me on Twitter: @MattBowen41