March 01, 2011 -
Matt Bowen
Jets' Gholston serves as a cautionary tale to the combine
Vernon Gholston was a bust with the Jets. We can all agree with that. The sixth overall pick out of Ohio State back in 2008 never made an impact in New York. No surprise here that the Jets are going to clean out his locker.
However, with the defensive backs wrapping up the combine today during their workouts inside of Lucas Oil Stadium, Gholston (like so many other first round busts) is a cautionary tale when it comes to the measureables tested in Indianapolis.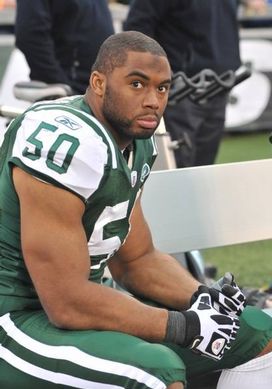 ICONGholston never produced in New York after going sixth overall in the 2008 draft.
I will always agree that the NFL combine serves a major purpose in the draft process. I want to see how prospects react to the overall pressure of the event, the interviews and the competition on the field. Do they have speed, change of direction skills and can they perform when the lights are on? That should be part of the overall evaluation—but only to an extent.
These numbers that come out of Indianapolis have to be taken back and compared to the No.1 judge of talent when it comes to rookies: game tape.
I talked to an NFL DB coach on Monday about the combine and he told me that he doesn't care about interviews or numbers from workouts. Why? Because he always grades out prospects based off of what he sees on the film.
With Gholston, that didn't happen. The Jets fell for the numbers that filtered out of Indianapolis. And that never translates into production on Sundays. The competition in the NFL is too high to project a "workout player" into the lineup when they don't have the game tape to support it. The key is to take those big numbers and go back to the film. Do you see that 40-yard dash speed on the tape? If so, then you can grade the prospect higher.
Take Bama's Julio Jones for example. Runs a 4.39 in Indy. From the coaches tape I have watched, the WR gets off of the ball, accelerates and eats up the cushion of DBs playing off-man coverage. You can see that speed on the field. That 40-time just reconfirmed it.
I don't think there is a perfect way to grade prospects, and we will see more busts emerge this year from the 2011 draft class. But the best talent evaluators always lean on the game tape. Use the numbers from Indy as a tool—but be realistic.
If they can't play on film, they don't have a chance in the NFL.
Follow me on Twitter: MattBowen41