August 15, 2011 -
Matt Bowen
Keep an eye on the Packers Randall Cobb
I couldn't stand game planning for wide receivers like Packers rookie Randall Cobb when I was a defensive back in the NFL. Work hard, get to a third down situation and then watch as the offense throws a route inside of the numbers to pick up exactly what they need.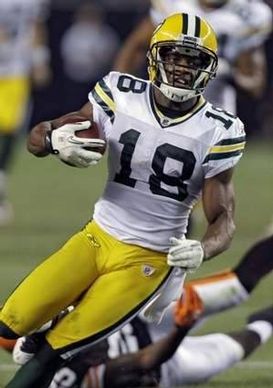 Rookie Randall Cobb made some plays in his first preseason game vs. the Browns.
Move the sticks and walk back to the huddle wondering why you couldn't get off of the field as a defense. And it got to the point where we would have to scheme to take away the slot receiver—just to win third downs. And that can open up the entire field for the offense.
Can Cobb be that guy in Green Bay? That's how I see it, because when you have dynamic talent inside of the numbers it gives you multiple options from a play calling perspective. An endless list of routes to run. Even stopping a 3-step slant becomes a chore from the slot position.
I'm usually very suspect when it comes to rookies at the WR position. They often vanish in the box score at times throughout their first year in the NFL. Not as easy transition from the soft, off-man coverages (or standard zone based schemes) they see in college to the rolled up CBs in the NFL that are physical at the line of scrimmage.
But I'm taking a different approach with the Packers rookie. On Saturday night in his first preseason action vs. the Browns, Cobb made his plays inside, from the slot position. And that is where he can make his money for this Green Bay offense on top of what he brings to the team in the return game.
Look at it this way: as a slot player you have a "two-way-go." To break that down, think of the ability to release inside or outside. Different than a WR aligned outside of the numbers that has to deal with splits, the boundary and a cornerback sitting hard outside to take away any vertical release up the sideline.
It is a different game inside of the numbers. And the matchups are more favorable for the offense. Work vs. a No.3 CB when you have three WRs on the field or a FS walking down into coverage. Not a bad thing for a WR like Cobb that plays extremely fast and can produce after the catch in the open field.
Without question, the Packers have players on this offense that will see the ball more than the rookie: Jennings, Finley, Nelson, Jones, etc, etc. We are talking about an offense that is loaded across the board at the skill positions.
However, keep an eye on Cobb as the preseason progresses and once we roll into the regular season. Because I see a rookie that could make an impact early in 2011.
Follow me on Twitter: MattBowen41