March 14, 2012 -
Matt Bowen
Kellen Davis re-signs, but how will Bears utilize the TE?
The Bears re-signed Kellen Davis today according to Brad Biggs of the Chicago Tribune. A 2-year deal that keeps the 6-7 TE in Chicago. But what should we expect from Davis under new offensive coordinator Mike Tice?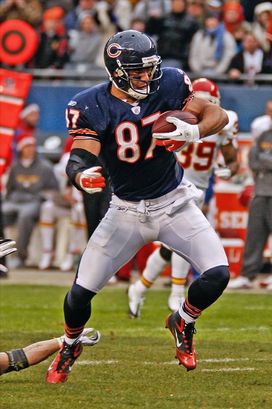 ICONCan the Bears use Davis in Mike Tice's playbook to create matchups?
The TE position was an afterthought with former coordinator Mike Martz running the offense in Chicago. And although Davis did show up at times inside of the 10-yard line on play action, he didn't have a prominent role in the route tree.
Because of that, we should have some questions on what we will see with Davis from a scheme standpoint in 2012.
Can he work the middle of the field vs. two-deep looks? What about the matchup vs. a safety? Plus, will Tice use the TE as a receiver removed from the core of the formation? Think the backside of a 3x1 set, inside the numbers as the No.2 or out of a bunch set.
With the Bears adding Brandon Marshall, having a TE that can run the dig (square in), the inside seam and the 7 (corner) route is key to offensive game planning. Look at third downs or creating matchups to move the sticks. One-on-one situations for the TE with Marshall stretching the field on the outside.
But that's all talk until we see what Tice has planned for Davis in his playbook. A key position in today's NFL to attacking coverages and winning inside of the numbers.
Follow me on Twitter: @MattBowen41