December 03, 2010 -
Matt Bowen
Leonhard injury is a blow to the Jets
Losing safety Jim Leonahard is a blow for the Jets—no other way to say it. According to reports, Leonhard went down in practice with a broken tibia. And no team wants to lose a starter in the month of December during a playoff push.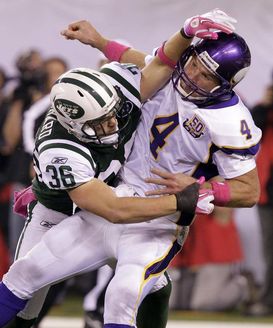 The Jets have to replace Leonhard's production on defense and special teams.
I know Leonhard from back when we played together in Buffalo. One of the smartest football players I have been around when we talk about film study, understanding offensive tendencies and knowing the game—inside and out. The type of player you want in the huddle because he is a worker. And, on the field, he provided a lot for Rex Ryan's defense. Very good feet for a safety and can play over the slot. Plus, he can get over the top of vertical routes from the deep middle of the field. A fit when we look at this defense through Ryan's eyes—because he is multi-dimensional. Not just some safety that has to play in the box and has to come out in passing situations.
Plus, let's not forget what Leonhard adds on special teams. Can cover kicks and is also a valuable return man in the kicking game. You lose that, it is going to sting. Now, the Jets aren't going to fold because of an injury. That doesn't happen to playoff teams. The next guy in line steps in and the team is expected to keep winning football games. That is the style of the NFL and the good teams overcome injuries at any point of the season.
However, replacing that overall production this team got out of Leonhard on defense and special teams isn't as easy as it sounds. There was a reason he was a starter and contributed in multiple ways. And, when it happens in December, right before the Jets travel to New England in a crucial matchup, it should cause some concern in that Jets' facility.
Follow me on Twitter: MattBowen41