May 02, 2012 -
Matt Bowen
Let's not forget about Blackmon's rookie impact
Click here to see Blackmon in the 3-step game.
Click here to see Blackmon on the goal line fade.
Talking NFL Draft this week, there is a lot of hype surrounding the first round picks and their "projected" impact as rookies. I jumped on that Monday when I broke down five players that could play a big role in the game plan this season.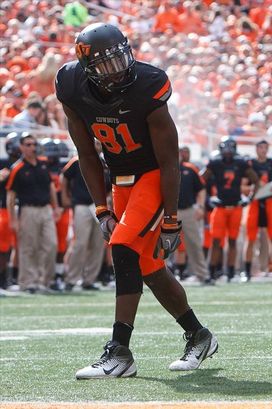 ICONLanding Justin Blackmon is a key for the development of QB Blaine Gabbert in Jacksonville.
However, one name that isn't getting enough play is Justin Blackmon down in Jacksonville. The Jags traded up to land the former Oklahoma State WR. A smart and savvy move when we talk about the development of QB Blaine Gabbert.
Coming off of free agency (with the addition of WRs Laurent Robinson and Lee Evans), Blackmon gives this Jacksonville offense another weapon outside of RB Maurice Jones-Drew. This allows the Jags to open up the offense, be more creative and give their QB a receiver that can go make a play.
With the rookie WR, we are looking at a player that will produce after the catch. Think about the intermediate route tree, the 3-step game vs. pressure and production inside of the 10-yard line. He is strong in the open field, can break tackles and has the top end speed to press a DB's cushion (distance between DB and WR). The Jags can use Blackmon in multiple alignments and put him in matchups he can win.
This is a big year for Gabbert and his development has to take a major step forward. Plus, he will face some real competition in camp from veteran QB Chad Henne. To be blunt, Gabbert's overall game (from decision making to confidence in the pocket) must improve if he wants to become a legit No.1 QB in this league.
And that's why you target and draft a talent like Blackmon in the Top 10. Give your QB a receiver that go make a play in crucial game situations.
Follow me on Twitter: @MattBowen41