November 15, 2012 -
Matt Bowen
Let's see if Rex can hold the Jets together
The Jets stink right now. That's the reality for Rex Ryan. A 3-6 team that laid down again this past Sunday out in Seattle and got on the plane with a 28-7 loss.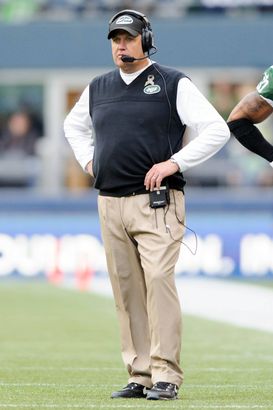 US PRESSWIREMore drama for the Jets and Rex Ryan?
Look at it this way: the drama started back in August when we were subjected to 24-7 coverage of this team during training camp. Rex. Sanchez. And, of course, Tim Tebow.
On Tuesday, it was more of the same with an anonymous player saying that Tebow is "terrible" when asked if the team should make a change at QB.
Hey, I have no problem with a writer running an anonymous quote for a story. He is just doing his job. As for the player that hid behind the curtain, I just hope he is carrying his own weight on game days (and making some plays) if he wants to throw a teammate under the bus.
So, how did Rex handle the latest situation? Here's what the Jets' head coach had to say (via the New York Daily News):
"Did I address it? I absolutely addressed it. Because I think it's a cowardly thing. If you're not going to put your name to it, I think that's about as cowardly of a thing as there is. I even mentioned that. I said, 'Look, if, . . .' Well, I don't want to get into specifics of what I said. But I did address it with our football team. I absolutely did."
OK, then. What's next? That's what I want to know. Because I'm really curious to see if Rex can hold this season together in New York.
I like Rex. I like him a lot. And although I never played for the man, I know plenty of veterans that speak highly about him. Veterans I trust. From his style to the way he handles the player-coach relationship, Rex does seem like a guy I would want to play hard for.
But his team is running out of time in 2012.
I know the Jets have issues. Turn on the tape and you can find multiple problems with this team on both sides of the ball. It's not just the quarterback or the offensive coordinator or the lack of pass rush. Everyone is involved.
However, if I'm a player in that locker room, I can't wait to hear what Rex has to say this week in the Saturday night meeting before the game on Sunday in St. Louis. What's his message? What's the motivation he is going to sell to the team? What does Rex say when the wheels are coming off on the Jets' season?
Because you don't want to have a situation where the players shut out the coach. And as I wrote last week, that does happen in this league.
Let's find out if Rex can tighten this thing up before it all goes downhill.
Follow me on Twitter: @MattBowen41