July 30, 2011 -
Matt Bowen
Loaded RB depth will make Saints tough to defend
We know what the Saints can do in Sean Payton's playbook when it comes to spreading the field, using creative looks in their personnel and pushing the ball in the vertical passing game.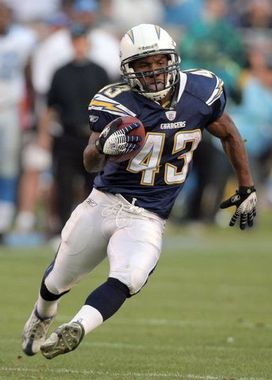 Sproles is an upgrade in talent to the Saints RB depth.
However, after the Saints signed RB Darren Sproles this week, don't forget about what they can do on the ground—because this backfield is loaded.
Pierre Thomas is still in the mix, first round pick Mark Ingram is now under contract and Sproles provides that same explosive ability that the club saw with Reggie Bush—with a more physical style.
In a good read from Jeff Duncan this morning at the New Orleans Times Picayune, the Saints are excited about getting Sproles into the mix. You can still use him in the route tree, removed as a receiver, plus the screen and draw game.
However, this offense will line up in regular personnel (2 WR, 1 TE, 2 RB) and get downhill with the football. Sproles fits that role along with Thomas and Ingram: two backs that play with low pad level.
Think about it. New Orleans is set up to win in some crucial game situations: inside of the 10-yard line, 3rd and short, 4-minute drill (icing the game), etc. That leads to flexibility, plus real opportunities in the play action game.
The depth chart in the backfield doesn't mean we won't see the wide-open offense from Payton and QB Drew Brees, but it does make New Orleans that much more tougher to prepare for.
Have fun defending that as an opposing defensive coordinator.
Follow me on Twitter: MattBowen41