March 15, 2012 -
Matt Bowen
Look out for the Bills on the D-Line
From my perspective, the Bills made the top move of free agency when they landed Mario Williams today. According to ESPN's Adam Schefter, the DE will sign a 6-year deal that could be worth $100-million with $50 million in guarantees.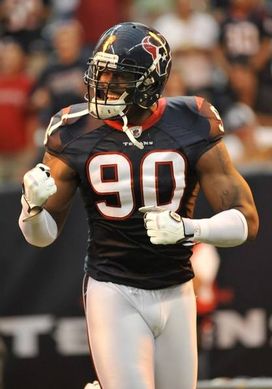 ICONWilliams adds to the young talent on the D-Line in Buffalo.
With Williams, the Bills are getting a premier pass rusher that is an ideal fit for the new defensive coordinator Dave Wannstedt. Plus, with Buffalo moving to a 4-3 front, Williams can slide in at the rush end position and start producing for this unit.
I talked about Williams last week because he can impact your coverage schemes. You can drop seven on third downs, force the QB to check the ball down in the red zone and get pressure from your front four when you add this type of talent.
A luxury to have when you can generate pressure up front and tell your secondary that the ball has to come out. As a safety or CB, you can sit on some routes or take some risk when you know the QB has to make quick decisions in the pocket. That's a great thing when you draw up a game plan during the week.
And looking at this D-Line in Buffalo, how can you not like the overall talent? DTs Marcell Dareus and Kyle Williams to go along with the new DE. Build up front, control the line of scrimmage and possibly look to add more depth through the draft.
Williams is one of those rare talents that can alter protection schemes and get to the QB. And if you want to win the AFC East, this is how you attack Tom Brady and the Patriots.
Big, big move for the Bills.
Follow me on Twitter: @MattBowen41