March 12, 2012 -
Matt Bowen
Looking for a safety? Landry should top the list
There is some risk in signing free agent LaRon Landry. This comes with any player that has dealt with injuries before they hit the market. And the safety has only played in 15 games over the past two seasons because of groin and Achilles issues.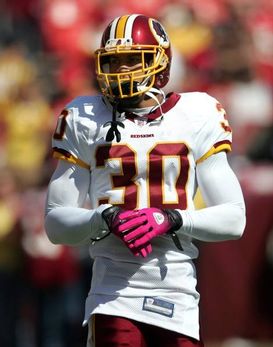 ICONLandry should draw interest as the top safety on the free agent market.
But considering the "light" talent on the market, Landry should draw interest because of his ability to play in multiple schemes.
Here are the top safeties (from my perspective) that will be available when free agency opens tomorrow:
- LaRon Landry
- Dwight Lowery
- Jim Leonhard
- Reggie Nelson
- Mike Adams
Looking at that list, Landry is the top talent (despite the injuries). And as I said above, you can plug him into any defense. Think of the pressure system we see with Rex Ryan and the Jets (a team reported to have Landry as a possible target) or the Tampa 2 defense in Chicago and Minnesota. The playbook isn't going to impact what you get out of the safety.
The former top ten pick is aggressive (almost to a fault), can play the deep middle of the field or come off the numbers in a two-deep look. Plus, in today's NFL, if you are going to sign a safety in the offseason, they better have the ability to blitz off the edge. That's a technique, a (practiced) skill Landry brings to your defense.
Going back to the NFL Combine, I wrote a post on the safety class coming out in this year's NFL Draft because it has become a premium position. Think of the spread offenses, the overall production of the TE position and the need to find safeties that can track the ball down the field.
And this year's draft class (similar to the free agent market) isn't very deep in terms of overall talent. I expect Alabama's Mark Barron to come off the board in the first round, but after that? Possibly Notre Dame's Harrison Smith in the early second round.
Again, there is risk here with Landry because of his inability to stay on the field the last two seasons. A legit reason to sign the safety to a short-term deal as the NFP's Dan Pompei wrote in his Sunday Blitz. However, I can't deny the skill set he brings to the huddle.
Let's see how this plays out this week….
Want to learn how to study the NFL Draft? Click here to sign up for the NFP's online scouting class.
Follow me on Twitter: @MattBowen41