August 17, 2011 -
Matt Bowen
Maybin gets a look with Jets, but will he produce?
Don't be surprised that the Jets have agreed to a deal with Aaron Maybin. This is nothing new, and something I discussed yesterday at the NFP, because these first-round busts always get a "second chance."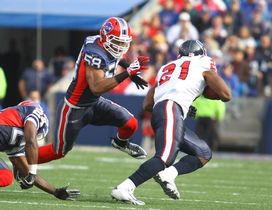 ICONRex Ryan is going to give Maybin a look during camp in New York.
Rex Ryan now has a first-round talent to check out until he has to set his opening day roster. Put Maybin through drills, see how he reacts to competitive settings in practice (9-on-7, one-on-one's, etc.) and find out tough he really is when the pads are on.
After that, throw him into live game situations. Get a solid grade on what he can do in the multiple defensive looks that Ryan throws at opposing offenses every game. And see how he responds.
Because that's all Maybin is doing in New York. After posting only 22 tackles in two seasons as the 11th overall pick of the 2009 draft, the LB is now just trying to make an NFL club.
No different than Vernon Gholston. The former Jets first-round pick is trying to make the cut for Lovie Smith's Bears. Transition to a 4-3 Tampa 2 scheme and try to show some production as an edge rusher.
But the key for Gholston and Maybin is simple: they have to earn it this time.
No more protection as first-round picks. They aren't in camp to be "developed" as pro football players. That time has come and gone after they couldn't produce at the NFL level for their former clubs.
And for Maybin, he has to show Ryan and the Jets that he is worth a second look. Let's see what he can do in a new system under new coaching.
Follow me on Twitter: MattBowen41