October 29, 2012 -
Matt Bowen
MNF: How did Crabtree beat Peterson on the fade?
Click here for the entire Inside the Playbook series.
Michael Crabtree (5-72-2TDs) played really good football tonight in the 49ers' 24-3 win over the Cardinals down in Arizona. And the one route I want to focus on is the goal line fade vs. Patrick Peterson. Let's use the screen shots from the TV copy and breakdown some coaching points—on both sides of the ball.
49ers vs. Cardinals
Personnel: Posse (3WR-1TE-1RB)
Alignment: Doubles
Route: Fade
Defensive Scheme: Cover 0 (blitz-man)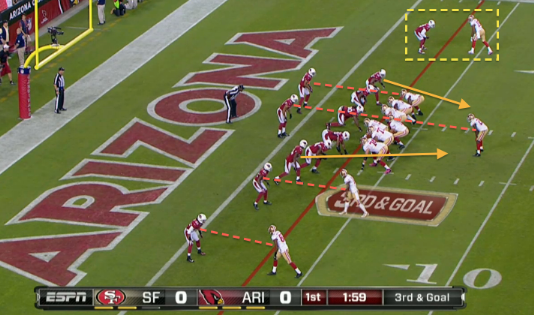 - Cover 0 (blitz-mna) from the Cards. A six-man pressure scheme. And with no safety help in the middle of the field, both CBs and the Nickel will align with a slight inside shade and show press-coverage. Smart call in a third down situation. Force the ball to come out, play with a flat-foot read and drive on the route.
- With the ball in the middle of the field and Crabtree aligned on the bottom of the numbers, Peterson has to play for both the slant and the fade. Take away the slant with the initial alignment (inside eye) and drive to the hip of the WR on the fade.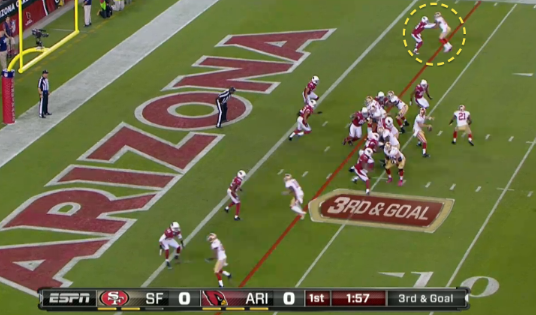 -Solid technique from Peterson on the release. Too often we see young DBs in the NFL open their hips ("open the gate") and allow an easy, free release to the outside on the fade. Not here. Peterson slides his feet ("mirror') and punches with the hands.
- "Play the ball at the highest point." I can't tell you how many times I heard that during my career—but it never fails. Smith puts this ball high and to the upfield shoulder so the WR can climb the ladder. Let your guy go make the play.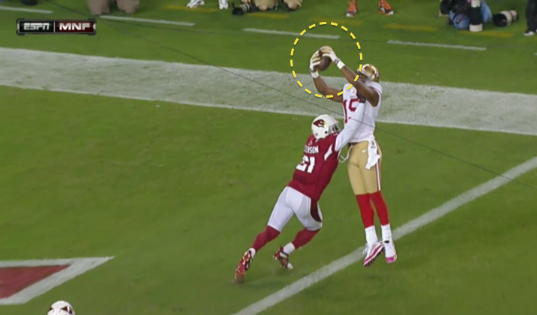 -I like this angle because it shows us the ball placement from Smith and the ability of Crabtree to go up and get it. It might not look like much, but from the perspective of the DB in coverage, it is tough to play through the release and find the ball.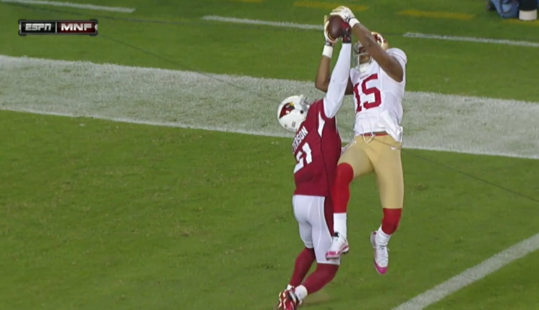 - As a DB, the play isn't over. Even after the catch, you are taught to "play the pocket." Stick your hand in between the WR's arms and rake that ball out. If you are stuck in a trail position (or can't locate the ball), let the WR take you to the point of attack.
- Strong. That's how I would describe Crabtree on this TD. Peterson had the proper alignment, used his technique at the line of scrimmage and was in a position to pull the ball out. However, this is the finish you want to see from the WR.
Follow me on Twitter: @MattBowen41