December 18, 2012 -
Matt Bowen
MNF: Jets, Sanchez disappoint once again
That was a bad football game Monday night down in Nashville. We can't spin it or even try to make this sound like a matchup dominated by two top-tier defenses. Nope. No chance.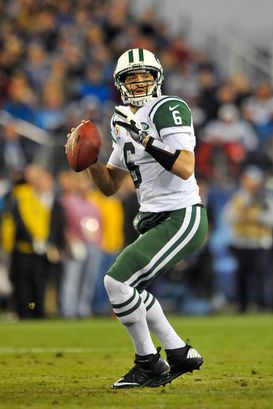 Sanchez threw four interceptions in the Jets' 14-10 loss to the Titans on Monday night.
This was a game featuring two offenses that didn't meet NFL standards. That's the best way I can say it.
I can somewhat understand the issues with Tennessee. A young QB that needs reps. That's going to happen when you miss time with an injury. But Jake Locker at least showed us the ability to get outside of the pocket and throw the short to intermediate route tree. The deep ball? Well, that needs some work.
However, when breaking down the Jets what can we say about Mark Sanchez?
He played timid, was late with his reads and made more questionable decisions with the football. Panic throws as I like to call them. Four picks. And one fumbled snap to end the game.
Go back to the late throw on the comeback, the forced seam route vs. 2-Deep coverage, the 9 route where Sanchez held the ball in the pocket or the final INT that was tossed over the middle of the field.
That's not pro ball. Heck, that's not good enough for a mini-camp session in the spring. Sanchez has to move the safety out of the middle of the field, see the coverage scheme and protect the ball like a veteran QB.
We are talking about mistakes you wouldn't expect from a rookie in his first start. And that can't happen when you are trying to stay in the playoff discussion for at least another week.
I think we are all on the same page when it comes to the Jets and the offseason that is right around the corner. This is a team that should be re-built. And the QB position has to be discussed.
This isn't quality football nor is there anything on tape that tells us Sanchez is the right player for this organization right now. Add in the snaps where Tim Tebow was forced on the field to run the option and it is easy to call this thing a complete mess.
Anyone could see that on Monday night.
Follow me on Twitter: @MattBowen41