November 20, 2012 -
Matt Bowen
MNF: Kaepernick, 49ers whip the Bears
Let's run through my quick notes from the 49ers' 32-7 win over the Bears in a game where San Francisco physically dominated up front.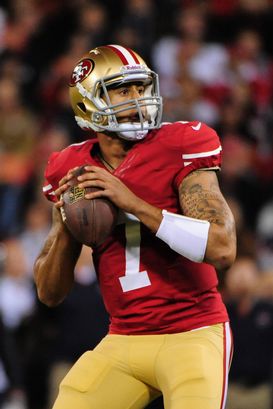 US PRESSWIREKaepernick threw for 243-yards and 2 TDs against the Bears defense.
Kaepernick's production: What stands out from my perspective is the poise the young QB showed on the national stage under the lights. He was patient in the pocket, showcased some of his athletic ability to escape edge pressure and threw the ball with confidence. Go back to the 7 (corner) route to Kyle Williams vs. Cover 1 pressure or the deep outside cut to TE Vernon Davis. Kaepernick (16-23-243-2TDs) looked the part and that should at least make Jim Harbuagh think about the starting QB position when Alex Smith is cleared to play. Tough to sit a QB that lights up a top five defense on Monday night.
49ers run game: I was getting asked on Twitter throughout the game about possible adjustments from Lovie Smith and the Bears defense. However, we have to remember that the Bears play Cover 1, Cover 3 (3-deep, 4-under) and Under 10 (weak side man rotation) to create their 8-Man fronts. That's it. The point here is the Bears were whipped up front. Look at the Power O, Counter OF, Lead, Double Lead, Inside Trap, Wham, etc, etc. This was more about the 49ers' O-Line creating clear running lanes for Frank Gore, working to the second level of the defense and winning their matchups consistently.
Aldon Smith, 49ers' D-Line: The OLB produced 5.5 sacks and showed us multiple pass rush moves tonight. An ideal blend of speed and power. Look at the edge ability, the bull rush and the counter moves at the point of attack that embarrassed Bears tackles Gabe Carimi and J'Marcus Webb throughout the game. Add in the production of Justin Smith and we were once again reminded that the Bears have a major lack of talent at the offensive tackle position when matched up vs. top tier pass rushers.
Coaching: Fair to say Harbaugh outcoached Lovie and Mike Tice? No question. And the Bears coaches will see that when they turn on the tape. The 49ers played faster, they were more physical and they made big plays when given opportunities. That was an absolute clinic San Francisco put on tonight in all three phases of the game.
Follow me on Twitter: @MattBowen41