December 04, 2012 -
Matt Bowen
MNF: Redskins' play action beats the Giants
Click here for the entire Inside the Playbook series.
Click here for my previous breakdown of RG3, Redskins.
Leading up to the Redskins matchup with the Cowboys on Thanksgiving I went to the All-22 cut-ups to break down the "Pistol' formation with QB Robert Griffin III. A mix of the Read Option, the zone based run game and play pass. Tough to prep for from a defensive perspective. And we saw that play action again Monday night from the Redskins in their 17-16 win over the Giants on Griffin's TD pass to WR Pierre Garcon.
Let's run through the play and discuss some coaching points...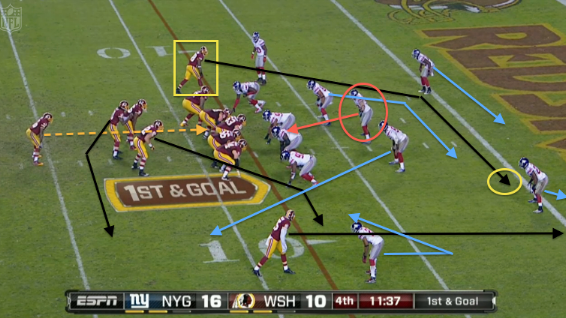 - The Redskins have their Regular personnel (2WR-1TE-2RB) on the field in a 2-Back pistol formation with the TE/H aligned in the backfield ("diamond" look) vs. the Giants Cover 2 shell. Ride the RB through the mesh point (force the Mike Backer to the line of scrimmage) and roll Griffin to the closed (strong) side of the formation.
- A quick coaching point on Garcon's split. Whenever the backside X receiver is aligned in a reduced or nasty split (close to the core of the formation), that should be an automatic alert to the Boot or crossing route (possible Hi-Lo crossers).
- With the Mike Backer attacking the line of scrimmage on the run action, the Will LB now has to match and carry Garcon across the formation. That leaves the Sam Backer to take a support angle to RG3 once the QB breaks the pocket.
- In Cover 2, the CB will sink with No.1 until he is threatened in the flat (TE) with the SS playing over the top (or matching) to the 9 route.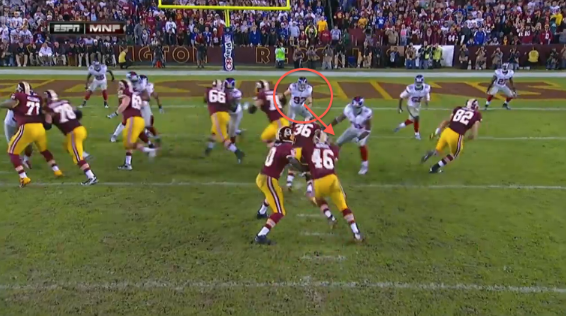 The end zone angle of the mesh point (play fake) that forces the Mike Backer to take the bait. Remove the Mike from the coverage scheme, cut the end and allow Griffin to slide outside of the pocket.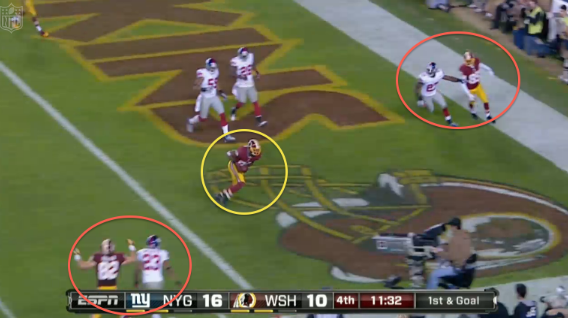 The finish from Garcon. With the CB and the SS now occupied, Griffin can target Garcon for six points after the WR separates from the Will backer. Smart call from Kyle Shanahan to get Griffin to the edge of the defense off of play action inside of the red zone.
Follow me on Twitter: @MattBowen41