November 13, 2012 -
Matt Bowen
MNF: What happened on the Steelers' overtime INT?
Click here for the entire Inside the Playbook series.
While we wait for an official word on the status of QB Ben Roethlisberger and his injured right shoulder, let's go back to Lawrence Timmons' INT in overtime to set up the winning field goal in Pittsburgh's 16-13 victory over Kansas City. Check out the cut-ups and then we will get into some coaching points on the Steelers' Cover 3 scheme vs. the Chiefs' "Cross-Country Dagger."
Personnel: Ace (2WR-2TE-1RB)
Formation: Unit Slot
Route: Cross Country Dagger
Defensive Scheme: Cover 3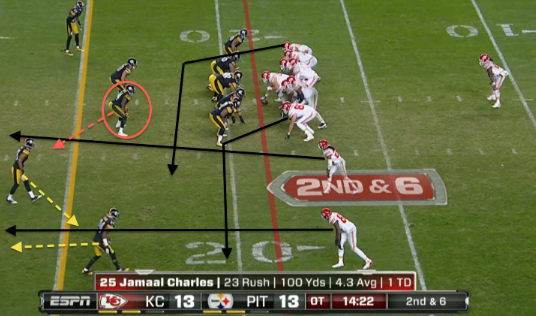 - We don't spend a lot of time talking Cover 3, but along with 2-Man (2-deep, man-under) the 3-deep shell is one of the core zone schemes you will see with the Steelers. Basic football here. A 3-deep, 4-under zone.
- I'm calling this a "Cross Country Dagger" from the Chiefs (No. 2 on deep clear out post, No.1 on deep dig). The slot WR (McCluster) will work up the field and stem his route to the post (occupy the FS) with No.1 (Bowe) working back underneath on the dig route (square-in). However, with the closed (strong) side TE bursting to the flat, this plays out as a base "Curl-Flat" concept vs. Cover 3 (TE on the flat, No.1 on the curl).
- In Cover 3, the SS will work through the "curl" and widen with the flat (can't be outflanked in Cover 3 on the edge). That leaves the inside backer, Timmons, in the Steelers' 3-4 front to play the "middle hook" drop.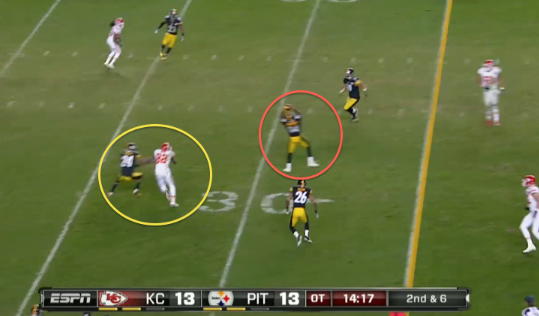 No different than Cover 2 or Cover 4 when we talk about reading the QB. Timmons will widen, get depth and sink underneath Bowe to make this play. And with the ball tipped at the line of scrimmage, the Steelers' LB can elevate and finish.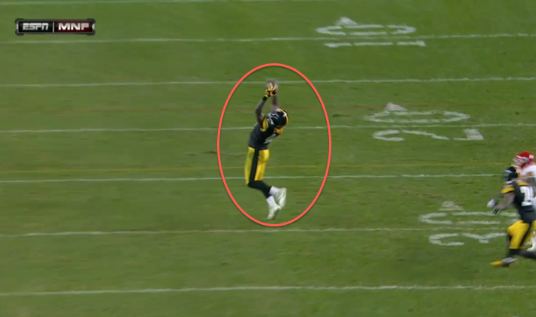 One more angle on the INT to close out the night. Remember, when we talk defensive football, it doesn't always have to be complicated. I saw plenty of Cover 3 this past weekend in a high school state playoff game here in the Chicago area and it showed up again tonight at the pro level. Exotic Xs and Os look great on the chalkboard, but execution and technique are still the top reason we see big plays on the defensive side of the ball.
Follow me on Twitter: @MattBowen41