November 12, 2010 -
Matt Bowen
More Favre 'retirement' talk heading into Sunday
One of the biggest games of the Week 10 NFL schedule takes place here in Chicago on Sunday. Brett Favre and the Vikings come to Soldier Field in a crucial divisional matchup against the Bears.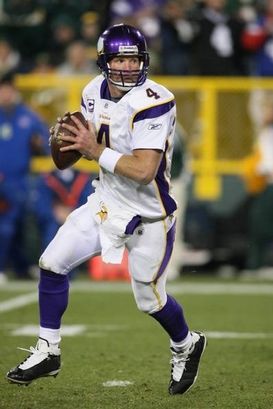 ICONFavre said that 2010 will be his last season in the NFL.
Can we call it an "elimination game" for Minnesota? At 3-5, I say yes. Green Bay (6-3) is getting healthier and look like the preseason NFC North favorite that everyone picked back in August. A Chicago win puts Love Smith at 6-3, which will leave the Vikings down three in the loss column with seven games to play. A magical—if not impossible—run has to be put together to get back into any type of playoff discussion.
And then there is Favre. According to reports, the Vikings' QB said in an interview with the NFL Network that this—the 2010 season—is the final year of his long career. Now, we all have heard this before. And there is no need to get into Favre's past "retirement" speeches or the back and forth summer drama we are accustomed to. I'm not going to say that I am buying this new retirement talk in November, but it does set the stage for Favre over the last two months of the season.
There is still a noticeable disconnect between Favre, the Vikings' locker room and head coach Brad Childress. The comeback win over the Cardinals last Sunday did enough to sweep that dirt under the rug for one week. Winning will do that in the NFL. It is the only way to distract controversy. And Favre was the leader behind that comeback.
However, a loss Sunday, along with the fresh retirement talk, could put this team in a downward spiral. And the quarterback will go down along with everyone else. I did bet against Favre last season and it was thrown right back in my face. But, with the new retirement talk and a team that is in a fragile state, we have to wonder if Favre can save their season. On Sunday, we will find out if it is time for the Vikings' to start packing up U-Hauls and preparing for an offseason of change—that includes finding a new quarterback.
Follow me on Twitter: MattBowen41