March 16, 2011 -
Matt Bowen
More suspensions for violent hits in 2011?
I will get into a more detailed breakdown of the NFL competition committee's proposed rule on kickoffs tomorrow (moving up to the 35-yard line, touchbacks brought out to the 25-yard line). But, for today, let's start with the idea of suspensions for hits on defenseless receivers.
We know what the NFL wants here: a cleaner image on Sundays.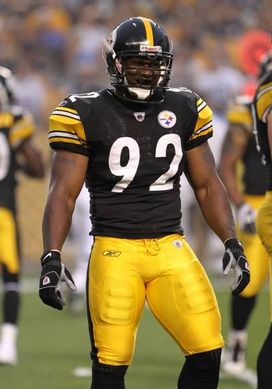 ICONHarrison should expect to be targeted by the NFL again in 2011.
Players lying on the ground (motionless), stretchers, facemasks unscrewed on the field, etc. This isn't a pretty game every week. However, again, where do we draw the line?
Head injuries (the No.1 reason behind the proposed kickoff rule) are the common denominator here. Unfortunately, the league will not—and cannot—put an end to concussions.
This is a violent sport, and you know that as a player. Put on an NFL jersey and helmet (complete with the little warning sticker on the back that speaks doom) and get ready for high-speed contact.
But just like the discussions we had during the 2010 season with the likes of Pittsburgh LB James Harrison (a player I believe was targeted), what constitutes discipline—and suspension?
Helmets are weapons. They always will be. I don't really know a better way to say that.
Now, if a player intentionally launches himself into a receiver (think Brandon Meriweather vs. Todd Heap last season), then we should talk about sitting that player down, taking away the game check and making an example.
But I worry that the league will be stuck in a "gray area," not knowing definitely what constitutes—or warrants—an actual suspension. And that is the problem we are looking at for the 2011 season. Think of a collision in the secondary or on a crossing route vs. a Cover 2 corner sitting on the opposite side of the field. Go and make a play on the ball and you could see some helmet-to-helmet contact.
Yes, the game always needs to take into account the health of the players first, but the NFL could be put in an awkward position if we see some of the premier players suspended for playing hard.
Follow me on Twitter: MattBowen41