May 01, 2012 -
Matt Bowen
My advice for Kirk Cousins
I can understand if Kirk Cousins is confused, even frustrated right now. Any of us would be in his position. Projected to go anywhere from the late second to mid third round, the Redskins took him off the board in the 4th round after drafting Robert Griffin III No.2 overall. A move I didn't see coming. However, Cousins can't change that now.
What's next for the rookie QB out of Michigan State? Here is my advice on how to handle the situation from a player's perspective.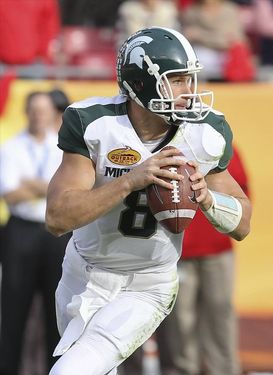 ICONCousins has to take full advantage of the reps he gets during camp in Washington.
Know your role: Cousins should head into the offseason program and training camp with the mindset of competing every day. But he has to understand the dynamic in Washington. The team traded away multiple picks to draft Robert Griffin III. He is the guy. The No.1. The "franchise" player. And unless Griffin goes down this season with an injury, that's not going to change. It could be a challenge to head to work everyday knowing RGIII will be the center of attention. For Cousins, he has to act professional; be accountable and prep for an opportunity. Because that role could change when you least expect it as a player.
Take advantage of the reps: Cousins will have some rough days on the practice field. So what. Use them to get better. And if he gets an opportunity to run the 2-minute drill vs. the first string defense or see more reps in 7-on-7, then he has to use them to improve. Those reps may be limited because of Griffin. The No.2 overall pick needs the time on the field to get ready for the regular season. Because of that, don't be surprised if Mike Shanahan cuts down the reps of Cousins—dramatically—when it is time to go to camp. Again, when it is his time to take the huddle in OTAs or camp, he must get everything out of those snaps.
Worry about your own game: This is tough from the player's perspective when you are in a backup role. I've been there in this league. The key is to forget about the starter and how he looks at practice or in a game. The coaches make the decision on who is going to run with the first team. Let them handle it. All Cousins can do is worry about his own footwork, route progressions, decisions making, technique, etc. If he gets caught up in the development of Griffin, his own game will suffer. Take care of your skill set first and control what you can do as a player.
Use the preseason to market your talents: Understand that every team in the NFL looks at these tapes. That's right. When you take the field in the preseason, you are auditioning for the entire league. As I said above, if all goes as planned in Washington, Griffin isn't coming off that field. For Cousins, these preseason snaps are vital to his career. Treat them that way. Because it might be the only tape he has for thirty-one other pro personnel departments to break down. He plays well this August and the NFL will take notice.
Prep like a starter: As a player, you never know when an opportunity is going to show up. Even with the circumstances in Washington, Cousins has to prep like he is the No.1. That starts in OTAs and has to continue throughout camp and into the regular season. It is no fun as a player to go through a game plan meeting when you are holding down the No.2 role. But if you don't treat the backup job like a true pro, you are in trouble when your number is called. NFL seasons are like daily narratives and they change by the minute. And if Cousins gets that opportunity, he has to be ready to produce and play like a No.1 QB.
Follow me on Twitter: @MattBowen41